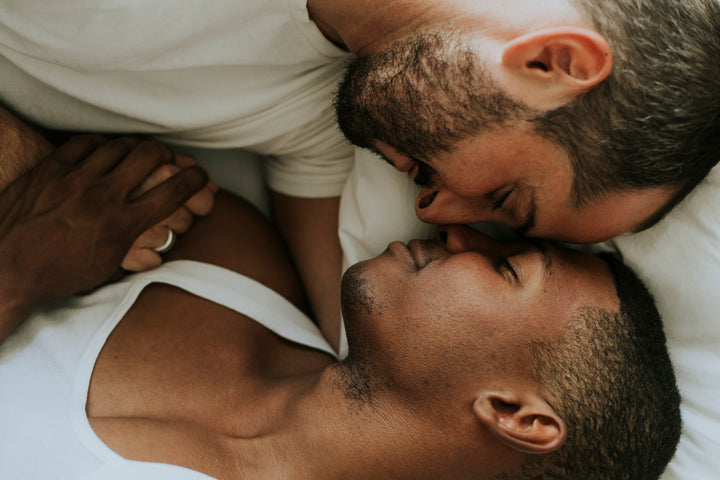 How to Give a Good Blowjob
Wondering how to give a good blowjob that your partner won't soon forget? You came to the right place. Giving a good blowjob is not only an amazing experience for your partner, it can be totally empowering for you, too.
And like everything else in sex, there are no hard and fast rules on how to give good head — but there are some very handy (pun intended) tips that we want to share with you that are guaranteed to take things up a notch. Trust us, your partner will definitely thank us for these...

Don't worry about how much experience you have; whether this is your very first time or you're just looking to shake things up a little with your long-term partner, here are 5 of our top blowjob tips that will help teach you how to give good head:
1

.

Don't overthink it

One of the biggest keys to giving good head is not getting too into your own head while it's actually happening. It's natural to wonder if you're doing things the right way, and almost everyone struggles with a little insecurity. But the more comfortable you make yourself feel, the more comfortable your partner will feel, too.

Ease yourself into it and be confident. In all likelihood, he's probably just thrilled to have you down there in the first place. And if he really doesn't like something, he'll say so. Figuring out how to give a good blowjob takes practice. So try to relax and have some fun with it.

Bonus tip: talk it out together

If you are uncertain about your technique or how to give the best blowjob for someone in particular, don't be afraid to open up some frank and honest dialogue on the topic. Discussing what is working well and what they want you to do can be a really big turn-on. So, don't be afraid to talk things out — even in the middle of the action.
2

.

 Take your time

Start slow. It's worth remembering that giving a good blowjob takes time, so don't treat it like a race. Sure, maintaining a good rhythm with your mouth can help build up to a mind-blowing orgasm, but don't feel like you need to bob your head up and down super fast for minutes on end.

Starting off slowly will not only give you time to find a workable rhythm, but it will also mean you can make the blowjob more sensual, make it last longer, and make the whole experience more memorable.

Bonus tip: mix up deep and shallow

Now we're not saying dive in with a deep throat, but you can try playing around with each stroke. Try changing between shallow, and deeper ones. You could start with all shallow, then move on to a mix of shallow and deep once you've built your confidence up.
3

.

 Get hands-on with it 

One of our favourite blowjob tips! Yes, it's called a blowjob, and you're supposed to use your mouth, but don't be afraid to make use of your hands, too. Sure, there's something to be said about a hands-free blowjob, but why ignore your versatile and dexterous digits during your session?

Stroke the bottom of his shaft while you lick, run your fingers up and down his legs, or maybe even try teasing his nipples (if that's his thing).

Bonus tip: use your hands for an extra "deep" feel

The thought of going deep can be pretty daunting. If taking it all in isn't your thing, try holding the base of his penis with your hand and moving it up and down in sync with your mouth. This can help give the sensation of going deep without making it uncomfortable for you.
4

.

 Go beyond the penis

Giving a good blowjob is a lot easier when you're providing pleasure through multiple erogenous zones. So don't be afraid to let your mouth (and hands) wander a little bit along the way.

We know that the head of the penis is one of the most sensitive areas, so it's likely you will be spending a fair bit of time down there. That said, there is no need to neglect his other pleasure points. Why not try some gentle licking and sucking of his testicles and inner thighs?

Bonus tip: move that mouth around

When we're talking about how to give a good blowjob, just remember that anticipation is one of the best sensations. So before you start sucking, do a little sensual exploration along other parts of their body with your mouth; gently kiss his stomach and thighs before finally letting your lips touch the tip of his penis. The build-up and suspense should really get him in the zone.

Once you do get down to the sucking, try licking the whole length of his penis with your tongue. If you're feeling it, making eye contact while you do this can be a real turn-on.
5

.

Make it enjoyable for yourself

If you're not enjoying the experience, it won't be pleasurable for the person on the other end. So, communicate! Let him know how you're feeling and ask him what he's enjoying.

Just as importantly, let him know what he can do to make things more enjoyable for you — whether that's adjusting into a certain position to make things more comfortable, or taking a break if your mouth starts to get tired. Remember: oral sex is about both people, and learning how to give good head starts with making yourself feel good.

Bonus tip: don't be afraid to take a break

Don't worry, pausing for a break doesn't have to mean ruining the moment. Add a little excitement by coming up for a kiss, using your hands for a bit, or even try touching yourself. After all, this is about both of you having a good time.

Another helpful tip: it's always a good idea to keep some water by the bed, so you can take a few sips to keep your mouth moist. Not only does it make it easier for you and ensure you get regular breaks, but the change in temperature can feel great on his penis and open him up to a world of new sensations.
6

.

Try it outside the bedroom

Sometimes the best blowjobs happen in the least expected places — so don't shy away from trying a more creative setting than the bedroom.

An impromptu session in the living room is a great place to start; have him relax on the couch, and get down on your knees in front of him for a well-adjusted angle. If you don't have carpeted floors, you might want to lay down a pillow or towel to keep yourself comfortable. The staircase is another great option, as you can sit him a couple steps above you for some effortless elevation.

Or maybe you're a bonafide nature lover (literally speaking)? Giving a good blowjob is very possible in the great outdoors. If the mood is right, try going down on him next time you're laying out under the stars; the moonlit darkness and quiet of the night will heighten every single stroke.

Bonus tip: try out a bath time blowjob

Move aside, rubber duckies — we've got something spicy in mind for your next soak. Run some warm water and fill the tub a little less than you normally would, then have your partner assume the position. Submerge your hands to warm him up, then bring him above the surface so you can start giving some extra wet oral.

You can also tease him beforehand with some gentle splashes to really build the anticipation. Either way, he'll love seeing your wet body in action. Afterward, help each other by soaping up together and rinsing off with some wandering hands.
7

.

Experiment with 69

Just because you're focusing on giving a good blow job, that doesn't mean you can't enjoy a little return pleasure yourself.

Ask your partner if they're interested in some simultaneous oral by lining up in a head-to-toe facing "69" position — either with one person directly on top of the other, or by having both of you lying on your sides, facing each other. The latter option might be more comfortable, especially if it's your first time.

A lot of people absolutely love the simultaneous sensations that 69ing can offer, but for other people, it's just a little too distracting. It's definitely worth a try, though.

Bonus tip: try to sync up your rhythm

Once you get the hang of double-oral in the 69 position, try to match up the rhythm of your partner's tongue flicks and sucks, so it feels like you're in perfect unison — the same way you would during intercourse. The heightened sense of connectivity will make things feel even more intimate, and it might even help you both achieve a simultaneous orgasm. Very hot!
8

.

 Tease his butt

This is definitely one you'll want to ask for permission about first — but lots of guys are actually very turned on by some light butt play, especially during oral sex.

Have a conversation about it beforehand to gauge his interest and comfort levels. If he's open to trying it out (and you're comfortable going there) then start with a small finger and gently draw circles around his anus before pushing lightly against the opening. This can all be happening while his penis is in your mouth, and the multi-zone pleasure will create some sensations unlike anything else he's ever experienced.

Really important reminder: always make sure you practice good hygiene, cleaning thoroughly beforehand and afterwards so you don't risk infection.
9

.

 Use lots of spit

Just like intercourse, wetness is always a good thing when it comes to giving the best blowjob possible — and your saliva is a perfectly good natural lubricant.

Don't be afraid to get a little sloppy with it, even if you're worried about it getting a little messy or making some funny noises. We promise he'll only be focused on the mind-blowing sensations that your mouth and tongue are bringing him.

Bonus tip: try an edible lubricant

If you don't like spit, or if your mouth just seems to get a little dry during oral sex, we suggest trying out an oral-safe lubricant. That's right — they're not just for intercourse!
10

.

Engage all your senses

A great blowjob feels incredible all on its own, but you can amplify the pleasure even further by engaging your other senses like sight and taste.

Try starting off with a simple blindfold (for him, that is; giving a good blowjob is a lot more difficult when the person doing it can't see anything!). Since he won't be able to watch what's happening, he'll be laser-focused on all the physical sensations (and sounds) that you're delivering.

No blindfold? No problem. You can just use a necktie or even an old t-shirt to create a makeshift blindfold that gets the job done. Just make sure it's comfortable to wear, and if they get nervous at any point, make sure to take it off (use a safe word if you want!) but we bet they'll really enjoy it.

Bonus tip: try flavoured lubes & condoms!

For a little extra oral excitement that engages even more senses, try out Durex® Play Passion Cherry lube and Durex® Tropical flavoured condoms.