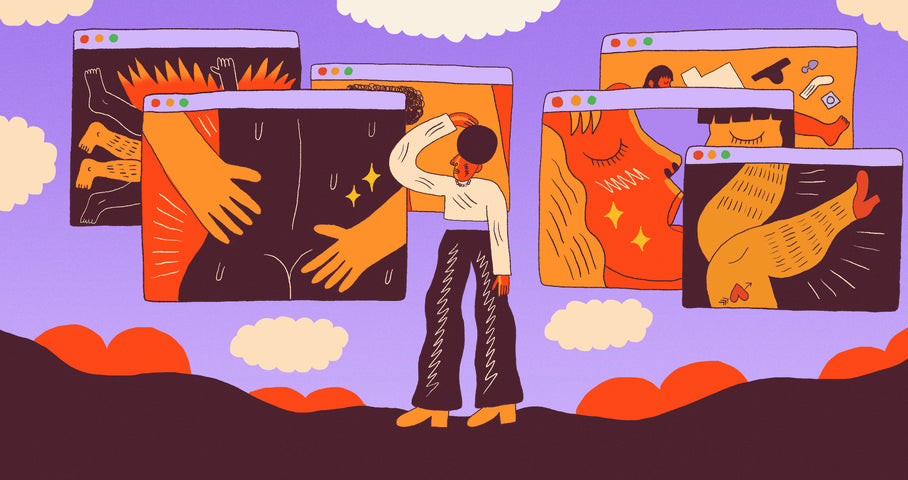 Let's Talk About Ethical Porn - By Mia Lafrance-Cloutier, Club Sexu
Whether it is the famous magazine Playboy, the XXX section hidden at the end of VHS and DVD stores, or the typical streaming sites we see today, the concept of pornography has existed for many years. While in the past it is hard to access pornography, it is now a medium everyone with internet access can easily consume by simply typing on the keyboard. And we mean everyone. 
These days, among other kinds of porn, ethical porn is gaining popularity, as well.
According to an American study done in 2020, 98% of cisgender men and 92% of cisgender women have consumed pornography in their life.

Pornhub statistics have shown that in 2019 alone, the site was visited 115 million times a day, which translates to 42 billion visits a year.
Is this surprising? Not really! It's normal if you consume porn, and this article is not here to tell you what is good or bad for you. Instead, we're proposing that you ask yourself questions about the content you watch (if you watch any!), and about the benefits and harms of pornography.
1

.

The difference between popular pornography and ethical pornography

Ok, we can start by the definition of pornography: sexual and sensual explicit content (images, videos, texts, audios). Usually, it's sites like Pornhub, Redtube and Youporn that come to mind when it comes to porn. It's not surprising because it's on these sites that we can find the famous, so-called popular pornography.
The content of these sites is generally free and very varied, from blockbuster production to amateur videos shot on a phone.

Popular pornography is usually far from a true representation of sexual relations in everyday life! Even if sometimes we try to escape from real life by watching porn (just like how we read fictional movies, for example), it would be reassuring ( & even fun) to watch more realistic representations of the body, of sexual acts, and of situations, etc.!

Popular pornography, as we know, is often the more easy route: two or three clicks and we are there.
However, there is lesser-known but interesting alternative to popular pornography: ethical porn, also known as feminist porn. Does that ring a bell?
Switching to ethical porn is the same thing as wanting to know if the clothes you buy are made with environmentally safe materials and by people who have good working conditions: in both cases, we want to be sure what we consume is produced justly and equitably
When we talk about ethical porn, we are talking about legitimate production that respects the rights of the artists (actors and actresses, those behind the camera, etc.) and offers structured working conditions (according to law) and celebrates all forms of sexual diversity.

Ethical pornography is often produced differently from popular pornography! Because the latter is so poorly regulated, it is not uncommon for there to be situations of exploitation (even sometimes with young people under the age of 18) and abuse of consent in the videos we watch. … Without us knowing it! While offering a safe working environment for the workers in the industry, ethical porn usually shows sexuality more positively: women claim an equal right to sexual pleasure as men, the scenarios are often more developed, and in general, everything feels more realistic!
This type of pornography is often on streaming platforms, where it is possible to pay for a one-time thing or monthly (like on OnlyFans, for example). Don't worry, we know: not everyone is ready or has the means to pay! At least, having just the minimum knowledge of the subject can help you make a more informed decision, whether it's now or in the future. And we like that!
2

.

How to find ethical pornography?

Let's say you have decided to switch to ethical pornography: how do you know what you are watching is actually ethical?
If you pay for what you consume, it's already a good sign! Just like how we pay for Netflix each month, paying for porn can allow you to know that what you watch is legally and respectively produced. To note: it's also possible sometimes to pay for things that are not ethically produced, so paying is not the only criterion to follow.

Do some research on the actors and actresses and watch interviews/testimonials on their social media accounts or You tube! Don't forget that they are also human outside their work and they have things to say about their career. Doing this can give you precious information about their working environment.

Many platforms/production companies will publically label the pornography they disseminate as "ethical" or "feminist". It is a promising indication, but we advise you to rely on the previous steps. We hope that this medley of tips will guide you in your future decisions!
3

.

Sexuality and pornography: good or bad?

It's all great, but before all this, you probably still wonder: is it good or bad to listen to popular or ethical pornography?

There is no universal response to this question! It all depends on you, your habits, and your sentiments regarding your consumption of porn (if you have one, of course).

Does it make you feel good? Does it give you pleasure? Do you feel uncomfortable with the things you consume? All of these emotions are valid! Watching pornography has its advantages…
It can allow you to explore your sexuality and discover the genre of content that gives you pleasure (or not!). Always keep in mind that pornography is rarely a realistic representation of sex in real life. It's kind of like watching an action movie! Additionally, loving something in pornography does not necessarily mean you'd like it outside the screen.

Sexual excitement gained from pornography can help you explore your own body by masturbation: this pleasant practice can relax you and reduce your anxiety.... and its potential disadvantages!
The (often) unrealistic representations of sexual relations in porn can create unattainable expectations you have for yourself and for your partners! Don't ever feel bad for something you don't want to do, and always respect your partners if they don't want to replicate the scenes you see in porn. In the meantime, everyone's sexuality should be experienced in agreeable, enthusiastic, and consensual conditions.

Although pornography is considered to have few dangers, the consumption of pornography can sometimes become problematic. If you feel like that is the case with you, and you believe you have developed a form of porn dependence (you feel like you have done it to excess, that you can't take care of your day job or maintain your relationships.), you can always talk to someone you trust, a health specialist or an organization like Tél-Jeunes and Kids Help Phone! Also remember that the term "porn dependence" is not completely justified, because your consumption (even to the extreme) cannot modify the function of your brain. Consuming "too much" porn does not mean the same to everyone!
In the end, the fact that you watch ethical or popular porn does not make you a bad or good person! Only you can decide what makes you feel good. Don't forget: you don't have to watch porn, and it doesn't matter how old you are. It is totally normal if you don't feel like it.

You do you, boo.
SOURCES
Solano, I., Eaton, N. et O'Leary, D. (2020). Pornography consumption, modality and function in a large internet sample. The Journal of Sex Research, 57(1). 92-103. https://doi.org/10.1080/00224499.2018.1532488

Quadara, A., El-Murr, A. et Latham, J. (2017). The effects of pornography on children and young people: an evidence scan. Australia Institute Of Family Studies.

Ethical Porn Curators. (2017). Why pay for your porn? Ethical.Porn.
https://ethical.porn/why-pay-for-your-porn/

Shea, A. (2020). Your Guide To Ethical Porn: What Makes It Different & Where To Find It. MindBodyGreen. https://www.mindbodygreen.com/articles/ethical-porn
 BY MIA LAFRANCE-CLOUTIER, CLUB SEXU