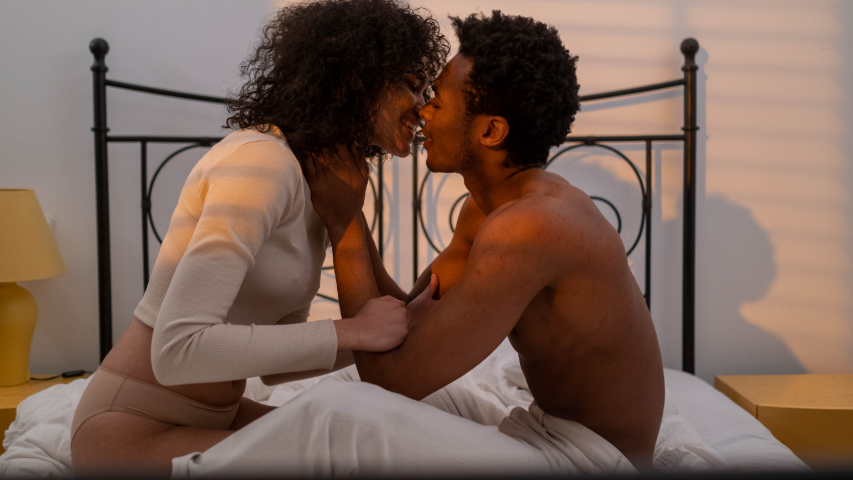 WHAT TO BRING TO A SEXY SLEEPOVER
Let's set the stage: it's 7pm, and you just got asked by that special someone to spend the night at theirs. Are you into it? Hell yes you are. And you're ready to have some fun. But, you're a little scatter-brained and unprepared for the spontaneous occasion. It's safe to say you need help packing. Don't worry, we got you.
When adults have sleepovers, there may be little sleeping involved. Whether it be staying at your partner's place or going over to your date's pad for the first time after a few hangouts, there's usually a sleepover checklist involved. You might need to know what to pack for a sleepover that has the potential to turn into an all-nighter, if you don't already have your overnight bag secured. That's what this is meant for. When it comes to being extra prepared, nothing feels better.
1

.

Your Sensual Sleepover Checklist

Forget animal-printed PJs and fuzzy slippers this time around. You're going to want to make the upgrade to sleepover packing list essentials that are another kind of comfortable. Let's get started.
2

.

Selection of Durex Condoms

After your movies have been watched, or during showtime on the sofa/bed, you might need a little protection to amp up the pleasure that could happen. And in that case, there's a variety of Durex condoms* to choose from, buy ahead of time, and stash in your slumber suitcase for the special night. For closer sensations and heightened sensitivity during sex, go for a thin or ultra-thin condom such as Durex Sensi-Thin Close Fit* or Durex Sensi-Thin* (depending on the girth size of the penis). For measurement tips, check out our Fit Tool.

If you're an opposite-sex pair and want to find pleasure on a similar level, check out Durex Mutual Climax* condoms that help him last longer and have ribs and dots on the outside to heighten her experience. For a fruitier moment, take note of Durex Tropical Condoms* that come in four fruit flavours for an exciting surprise (P.S. they're perfect for BJs)!

Need a hand on safe condom application? Read How To Put A Condom On Correctly For Safe Sex before you open up the package.
3

.

Variety of Lubes

Do you know what to bring to a sleepover that could turn X-rated and pairs well with your condom choices? Durex lubes and pleasure gels*! Conveniently bottled and small enough to fit in your bag, lubes like Durex Tingling Lubricant* can help bring zingy and tingling sensations to the *lack of slumber* party. Or try Durex Play Massage 2 in 1 Aloe Vera* for a gentle water-based foreplay massage to set the mood inside. And if there's a clitoris making their stay, don't leave out Durex Intense Orgasmic Gel* which can help intensify her orgasms with only a few drops!

If you're unfamiliar with playing with lubricants, check out The Hottest Tips On How To Use Lube During Foreplay to heat things up before it all goes down.
4

.

Don't Skip the Sex Toys

There's more fun to be had when thinking about what to pack for a sleepover with your sexual interest and, yes, it involves adult toys. The Durex Intense Bullet* vibrator is a great example of a small and discreet toy that packs both a soft buzz and all-over body stimulation, under or over the covers. Also, the Durex Pleasure Ring* makes the perfect pleasure partner if there's a penis at the overnight party.
5

.

Other Packing Essentials

After all the good sex stuff is taken care of, toss in these extra items and enjoy the wild or intimate night ahead of you:
Sweatpants for the morning
Plenty of hydrating beverages
Toothbrush, toothpaste, and gum
Facial cleansing wipes
Selection of snacks (chocolate, chips, etc.)
Your sexy personality
If you're staying with a guy and want to know what to look out for if serious romance is on the brain, learn the 7 Signs He Is Making Love To You to help you decide if a second sleepover is in the cards.

*Ensure this product is right for you. Always read and follow the label before use.