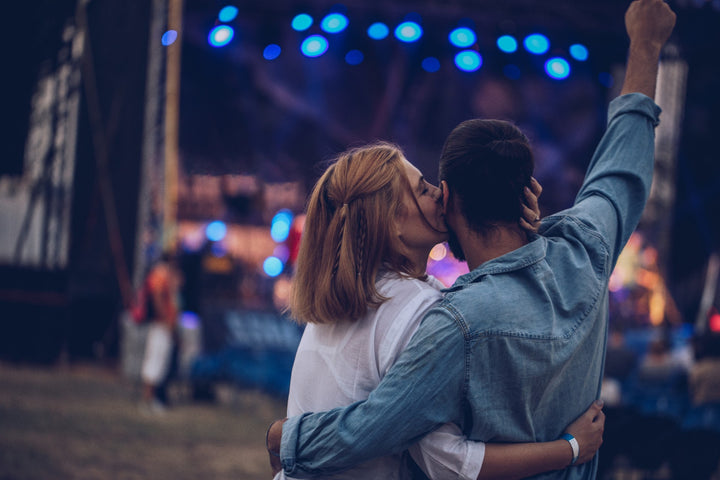 5 Easy Ways to Heat Up Your Summer Sex Life
Wondering how to spice up your sex life this summer? The warm weather opens up lots of possibilities — but they won't be around for long. One day you're making out under the afternoon sun, and next thing you know, you're trading in those tank tops for a winter wardrobe full of fleece sweaters.
Gotta love Canada, eh?

We wouldn't trade in our four seasons for all the sunshine in Florida, but we DO want to help you make the absolute most of your summer this year — especially when it comes to your sex life.
So, are you looking for some naughty date night ideas this summer? We've got you covered with 5 scintillating suggestions.
1

.

Sex under the stars

Getting it on outdoors is on lots of people's bucket lists, but the prospect of hooking up in broad daylight might (understandably) feel a little too risque for some. A good way to meet in the middle: try having sex under the stars somewhere private in the wilderness. The cover of nighttime will make it a lot easier to find a discreet location that still feels naughty, and you won't find a better view while horizontal than looking up at a starlit sky.

Canada in particular is full of exciting places to have sex outdoors. If you're out camping — this is your perfect chance. Pitch a tent (the literal kind) and get down to business with the flaps down so you can still look out into the wilderness.
2

.

Go for a skinny dip

If you've never felt what it's like to soar through the water with nothing but your birthday suit on, you're in for a very pleasurable experience. Bring along your (equally naked) partner, and the dip will become that much better.

Backyard pools are a great option. And if you're really good in the water, you can even try to do some naked straddling, or a little bit of hand action under the surface.
3

.

Take a sexy road trip (If travel restrictions allow)

If you're looking for good places to have sex, the answer might be sitting right in your driveway. Since vacation options may be a little limited this summer, why not hop in the car and try out some naughty car sex? You might have to get a little creative with your sex positions, but fold-down seats open up lots of possibilities.

Face-to-face straddling positions are good for the front seat, or you could keep it even simpler with some passenger-seat oral. Just remember: safe sex requires a fully parked car. It's never good (or legal) to get naughty when either of you is actually driving.
4

.

Play some strip poker (or Go Fish?)

Or maybe Guess Who? Whatever you're into, the next time a summer heat wave hits and you're desperately trying to beat the heat, why not shed some clothes while enjoying a little bit of extra-friendly competition?

You can make up strip rules pretty easily for almost any card or board game. Every turn won or lost can result in an item being removed — or you can go with a winner-takes-all approach, building anticipation until the defeated player's grand reveal at the end of the game. If you're feeling extra frisky, you can even set a sexual prize for the winner — like 15 minutes of oral, fulfilling a sexual fantasy, or the winner's choice of sex positions.
5

.

Have a threesome

Okay, to be fair, this isn't exactly a summer-specific endeavour...but it definitely feels like the perfect time to explore this famous fantasy, right? If you're wondering how to spice up your sex life, this could definitely be an option. As long as you communicate properly beforehand and set boundaries that make everyone feel safe and respected, a threesome can be one of the most exhilarating and orgasmic experiences out there.

Just remember this important piece of relationship advice: the only time it's a good idea to have a threesome is when you're both equally excited about the prospect. Plus, you need to be ready to face the very real emotional insecurities that often arise from bringing in a third. Just make sure to talk it all out beforehand!


***

What else is on your summer sex bucket list? Connect with @DurexCanada on social and let us know what you'd like to explore this year!