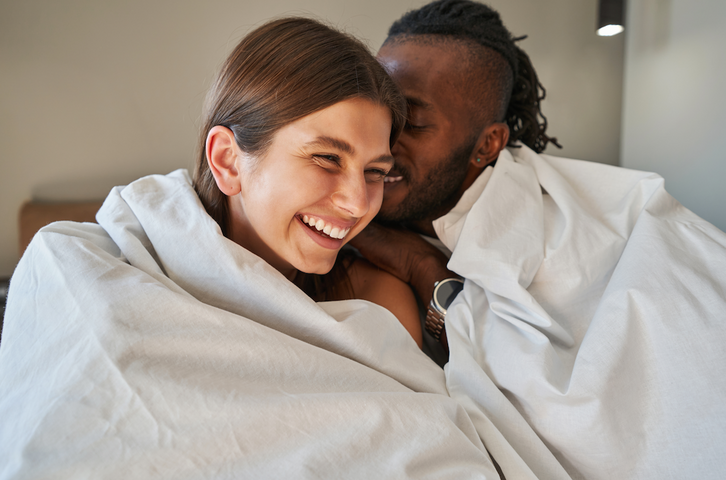 HOW TO TALK DIRTY: THE ULTIMATE DIRTY TALK GUIDE
In the iconic words of Jason Derulo, "talk dirty to me." — or, for our purposes today, talk dirty to your partner.
(Annnd now that song will be stuck in your head for the rest of the day. You're welcome.)
If the thought of oral seduction tickles you pink, we invite you to keep reading. Because we've put together the ultimate beginner's guide on how to talk dirty during sex.

These tantalizing dirty talk ideas will help you gain serious confidence as you hone your dirty sex talk skills — even if you're feeling a little shy or awkward about it all.

So, where's the best place to start?
1

.

Establish clear boundaries
Dirty talk during sex is not necessarily something you want to spring on someone in the throes of an intimate moment. You'll want to start off with a conversation to establish what you and your partner are comfortable with and what's not okay.
Dealing with sexual and emotional baggage? Learn more here.
Although this might not sound like the sexiest approach, consent and respect are always paramount. Plus, establishing these guidelines beforehand will only help make things feel more natural when you try out some dirty talk in bed. Nothing kills the mood like a dirty word that doesn't sit well with you or your partner.
Here are a few suggestions about what to discuss:
Talk about what words turn you on. And get specific. For example, unique words for body parts that you like, and ones that make you feel icky.
Discuss the names you enjoy being called. "Daddy" might do it for some people, but TOTALLY weird out others. Everyone's unique. Some people like to talk very dirty in bed, while others prefer to keep it only slightly scandalous. Find your sweet spot.
Establish a no-fly zone - AKA specific words or topics (or roleplays) that make you feel insecure or uncomfortable. You've heard of "safe words" right? Well establishing the opposite is just as important. One vocabulary does not fit all when it comes to the bedroom.
Decide just how much dirty talk you find sexy. The fun might wear off if you keep up the dirty talk throughout your whole experience. You might want to just incorporate it into your foreplay, or work it in occasionally as the action heats up. Whatever feels right in the moment. 
It's always good to talk things out. For example, here's how to ask your partner for what you need to orgasm.
2

.

Try texting first
If the thought of jumping right into dirty talk during sex makes your palms sweat, try "dirty texting" first.

And no — this version of "sexting" does not necessarily have to involve any pics being sent. Sounds kind of old school, right? But trust us: words alone can have enormous erotic power.
Not only will dirty texting give you more time to get comfortable and eliminate the pressure of having these initial interactions face-to-face, it'll also help build up the anticipation ahead of the real-life encounter that follows.
Here are some dirty texting ideas to help you get started:
You can try kicking things off with a classic approach, like the tried and true "what are you wearing" or "tell me what you're doing right now."
Take it slow. Just like with real sex, there's no need to rush it. You can start off tame and up the ante as you go if you're getting the right vibes in return. If they keep leaving you on "read" - maybe pump the brakes for a bit!
Share one of your hottest fantasies. Again, this is something that can be a little more intimidating to discuss IRL. So, get upfront and honest during your sexting adventures. It might turn you both on and help you open up about your sexuality and preferences.
Try incorporating a little role play. Maybe you're two strangers who just matched online, and now you're "getting acquainted" with one another before you "meet" for a first date?
Bring up a steamy memory (i.e. "Remember that thing we tried in the hot tub last summer?"). Bringing back the thoughts of your hottest adventures together might just inspire your next one!
Speaking of role play, discover 5 reasons to introduce it into your relationship.
3

.

Get inspired
No one expects you to be fluent in dirty talk right off the bat. You might come up completely blank when thinking about what to say in the moment. The best way to fix that? By building up your confidence and sex talk vocab with a bit of fun and frisky research beforehand.
You could, of course, check out porn to get your head in the game and jot down lines you want to steal (and ones you really dislike).

Or, you might opt for erotic audio stories that you can listen to on-the-go with your earbuds in (scandalous!). Erotic fiction can also be a fantastic source of inspiration for the book worms among us — so don't be afraid to revisit a romantic classic like Pride and Prejudice for some hot & heavy inspo.

And just like preparing for a job interview (okay, maybe not quite like that), practice makes perfect. This may sound strange, but trying out different words and tones out loud when you're alone will help you nail dirty talk in bed. 
4

.

Don't take it too seriously
When it comes to dirty talk, it's best not to overthink it. Remember that it's still you and your partner experiencing these moments together — and it doesn't have to come out sounding (or looking) like some Hollywood fantasy.
So keep it simple and just talk to your partner from the heart. Tell them what you love about them, how good they look, or how they make you feel. Think of the dirty talk phrases you'd be dying to hear yourself, and see if they work on your partner.

It's our golden rule: dirty talk unto others as you would want them to dirty talk unto you (a mouthful, yes — but great advice!).
__
Want to get more inspired sexually? Sexy dirty talk is just one piece of the pleasure puzzle. If you're in the mood to load up your toolkit with even more sex tips and advice, follow @DurexCanada on social or keep exploring here.