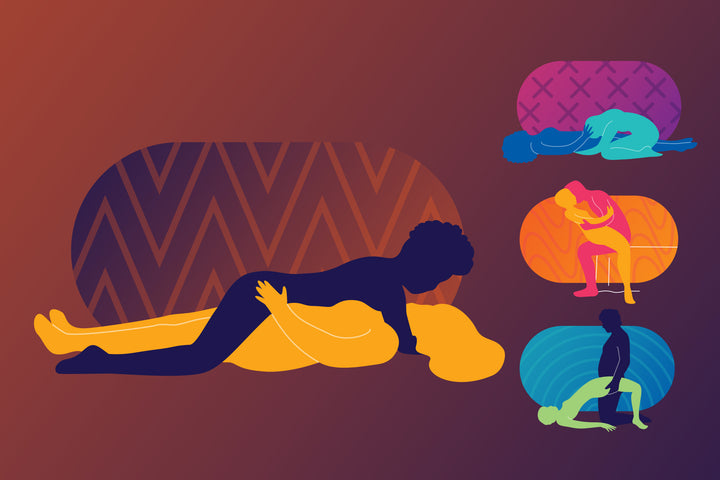 SEVEN SEX POSITIONS FOR HER ORGASMIC PLEASURE
Breaking Down Sensual Sex Positions For Women
You scream, I scream, we all scream for orgasms!
Of course, reaching that climactic tipping point is exhilarating. However, achieving an orgasm can be extra hard if you're not positioned pleasurably. We say, nothing feels better than knowing the right sex positions – but what exactly do they look like?! And, more importantly, which sex positions can help make her reach better orgasms?
Orgasms are incredibly personal, as all bodies are different and are inclined to certain pleasure while remaining resistant to other techniques. But, we feel (and it's a sexy feeling) that these following 7 sex positions can add extra spiciness to your overall sex life – especially if you're a vagina-owner.
The aim is to empower you in your positioning styles and hit the sweet spots of the body in devilishly desirable ways. Let's get horny.
Top 7 Sex Positions For Her Orgasmic Pleasure
Ready to begin playing 7 minutes in heaven?
Before we start talking sexual performance tactics, let us take the position of adding a quick disclaimer: these sex positions suggested with her in mind are meant to be fun, even though they may sound shocking at first. Reader discretion is advised. Explicit content ahead. Don't close your eyes. Open your mind instead.
For the craziest sex position names you've probably never even heard of, open up Quirky Sex Position Names And Why You Should Try Them.
1

.

The Tilt-a-Whirl
Much like the thrills you'd expect from the carnival ride, this sex position for women's pleasure is nothing short of an amusement. The position is as follows:
The guy sits on the edge of the bed with his feet firmly on the floor
The woman sits on his lap, facing her partner
Then, the woman leans backwards in a 45-degree angle; both partners holding each other's arms
The guy is doing all the labour while the penis meets the G-spot sensationally
The admission price is totally free for this XXX rated ride (for adults only) so keep revisiting this Tilt-a-Whirl fair as many times as you like.
2

.

The Sunday Afternoon

You've heard of the expression, "easy like Sunday morning" but we bet you didn't know you can have an even simpler, and pleasurable, Sunday afternoon. That being said, this sex position is the best any day of the week and it goes a little something like this:
The person doing the penetrating lies on their side while the woman lays with her back on the bed (get a soft and comfortable surface ready)
Then, she puts one leg over his hip while the other leg wraps around his lower leg – pulling him in closer for deeper sensations
This should form an 'X' position, similar to a handy pair of scissors
Not bad for an afternoon activity.
To make this position more fun for her, you can use Durex Intense Orgasmic condoms* which are ribbed and dotted to provide her with extra stimulation.
3

.

The C.A.T.
Meow, this one's fierce.
Standing for Coital Alignment Technique, the C.A.T. is an orgasm inducing sex position for her because it so beautifully stimulates the clitoris. As an expansion pack to the wonderfully classic missionary position, C.A.T goes a step beyond – crawling into more intimate curiosity:
The woman lays back with her legs together while the man lays on top of her with his legs apart – using his legs to move the rest of his body
In this stance, the man is only pushing inside about an inch or so but will feel her thighs against him pleasurably while she feels electrified
This is a great position for people who want to rock back and forth together, look deep into each other's eyes, and create organic intimacy.
4

.

The Pinner

Don't worry, you won't be walking on pins and needles after you're done with this sensual situation. Let us pin you down with the rundown:
She lays flat on her stomach while he lays, face down, on top of her
Penetrating takes place purely from behind, anal-style
Since she's flat on her front, she can slip her hand in between her body and the bed and rub her clitoris for an added bonus
With anal sex like this, we recommend a safe lube, such as our Durex® Warming Lubricant*, that can help make the overall experience smoother while providing irresistibly warming feelings.
5

.

The Bridge
Calling all yogis! This sex position is perfect for her and it doubles as a great balancing act. Though it's slightly more advanced, we feel like you can get the hang of it in no time:
The woman lays on her back, legs bent and knees apart from each other with the soles of her feet flat on the bed
This allows her to push her weight into her heels and lift her hips up to arch her body, with her upper back resting on the bed
The penetrating partner is then allowed to go deeper by kneeling between her open legs and supporting her hips with his hands
Indefinitely, this sexual position inspired by yoga pose will lead to some sweaty relief and heavenly outcomes.
To help relieve other stressors and examine alternate ways to please your partner(s), Take Her To Paradise with this article that touches on exotic bedroom ideas.
6

.

The "Closed for Business"
This one's a real oral fixation and all about her, baby! Here's how to do it:
The woman simply lays back in bed, with her legs closed, while her partner performs exclusive tongue and mouth action on all her vaginal sweet spots
The goal is to start slow, build the sexual energy, then eventually cause an orgasm explosion
Talk about after hours pleasure!
Thirsty for more seduction techniques? Check out 7 Positions to Heat Up Your Sex Life for additional inspiration.
7

.

The Figure of Eight

You've made it to the finale! Let's finish things off with this brilliant mutually satisfying position that moves like this:
She rests on her back with hips and legs raised a little bit (her hips can elevated by a pillow or two for additional height and comfort)
The person penetrating lays on top of her, with their legs flat on the bed – holding themself up by the arms
Then, penetrating happens slowly in the motion of a figure of eight
This is a great sex position for her as the pubic bone will rub against the clit, upping the pleasure factor. Even then, the gentle, circular motions can feel amazing for all parties.
Now that you're well on your way to be positioned for greater pleasure, remember that the best sexual experiences happen when all partners feel amazing. And, even if you don't get these positions right the first time, keep trying! Don't give up the good fight for freedom.

Nothing feels better than free love.

What's your favourite position? Ours is CEO, but it's also any one of these from the list. Now… run along and try something new.

*Ensure this product is right for you. Always read and follow the label before use.