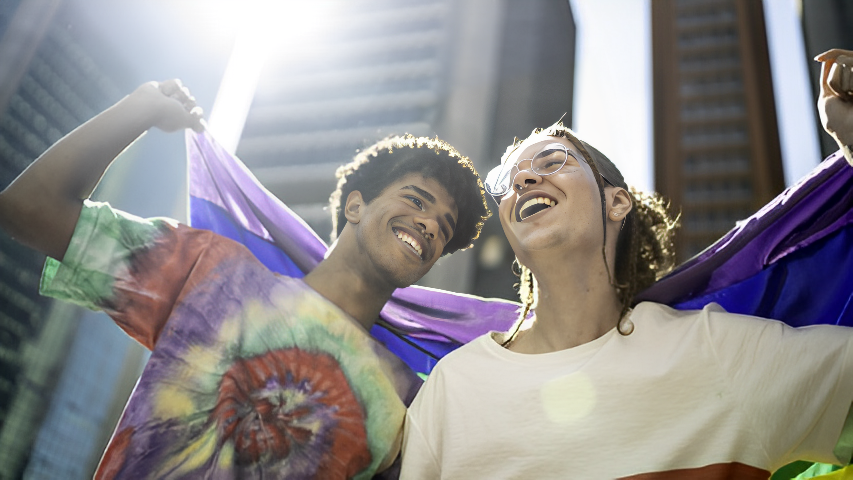 PROUD TO CELEBRATE: 7 OF THE BIGGEST PRIDE PARADES IN THE WORLD
Near and far, Pride parades are a festive and outrageously fun way to support the LGBTQIA+ community in a medley of ways. They're typically for everyone, as they reach multiple demographics and garner the support of worldwide corporations. It goes without saying that here at Durex Canada we're a proud supporter of Pride as we believe safe and good sex is for everyone. When all are welcome, nothing feels better.

If you're based in Canada and are looking for a little getaway to be where the action is during Pride months, we've compiled a list of a few of the biggest Pride celebrations to attend in your lifetime. While some may hit close to home, the majority of this list will be top travel destinations that can double as a bucket list endeavour checked off. Get ready for a whole lot of flaunting, cheering, and dancing.
Our Massive Pride Parade Roundup
Before you tour short snippets of some of the largest celebrations on this planet, check out some more local parades such as the Capital Pride Festival in Ottawa and the Vancouver Pride Parade that Durex has proudly attended in the past. These Canadian Pride events pack the party while maintaining the core messages of Pride: inclusivity, acceptance, diversity, and respect.
For more that speaks to these types of values, check out The Importance Of Queer Sex Ed For Everyone and find yourself immersed in refreshing material.
1

.

New York City Pride Parade

It's no surprise that the city where the Stonewall riots took place, serving as a catalyst for the LGBTQ+ rights movement, houses a gigantic parade called the NYC Pride March every year on June 25. Seeing millions in attendance* at this historic festival, New York City does Pride in a major way. Buzzing with high-level celebrity performers, youth Pride festivities, brunches, rallies, and a whole lot more, you too can take a bite of the Big Apple and enjoy all the fruits that come with it.
2

.

Toronto Pride Parade

The 6ix knows how to get down at the end of June. In the heart of Toronto's gay village, beginning on the corner of Church St. and Bloor St. and moving toward Yonge St. to Yonge-Dundas Square, close to a million (or more)† people take to the streets for Trans Pride, the Dyke March, and the very popular Pride Parade on June 23, 24 & 25. If you're looking to rent out a room for the celebration specifically, it's a good idea to book in advance or find a spot somewhere near the festivities but not directly in the heart of it (unless you wish to be up all night).
3

.

San Francisco Pride Parade

A long-time geographic advocate for LGBTQIA+ rights, San Francisco holds its annual festivities every June 24 & 25 – honouring the rich history of the community on Market Street. Hundreds of thousands of people‡ attend the event littered with the happiness of drag queens, DJs, pub crawls on the sides of the Bay Bridge, and so much more. If you've always wanted to visit San Fran, here's more of a reason to cross over.
4

.

Taiwan Pride Parade

Marking the largest celebration in Asia, Taipei Gay Pride sees 200,000+ attendees§ over a 4 day period, with the parade landing on October 28, who come together to watch live performances and shows during the day, then party hard into the night. Both visitors from across all of Asia and locals to the community gather in the Red House district where over 20 gay bars and clubs live. If you're planning to come here, stay in the Ximending district which is home to the best nightlife the city has to offer. 
5

.

Washington D.C. Pride Parade

On June 11 of every year, a historic half a million and counting# show up to the Dupont and Logan Circle neighbourhoods to take part in both a political and energetic parade. Known as the Capital Pride Alliance, D.C. puts on festivals and concerts that see over 200 corporate sponsorships, floats, banners, and other spectacles that cast a rainbow over America for allies and the community at large. 

Speaking of allies, you can find out more on what that means in our article: What Is Allyship? How To Be A Good LGBTQ+ Ally.

6

.

Amsterdam Pride Parade

Hundreds of thousands of city goers¶ show up with flying colours for one of the largest Pride events in the world at the week-long festival running from July 29 into August 6, with the parade taking place on the first day. You won't want to miss venturing down the historic Amsterdam Unesco canals for the Canal Parade to catch floats on boats that are unique to the riverside culture of the capital of the Netherlands. 
7

.

Madrid Pride Parade

Going down in the books as the biggest Pride festival in Europe, the Madrid Pride Festival (MADO - Madrid Orgullo) rakes in over 2 million visitors// in a week-long event that takes place on June 23 into July 2, with the Pride parade falling on July 1. Notably one of the best cities in Spain, Madrid holds nothing back for the LGBTQIA+ community and features open air concerts, sports, art and more in Chueca, the gay neighbourhood in the heart of the city.