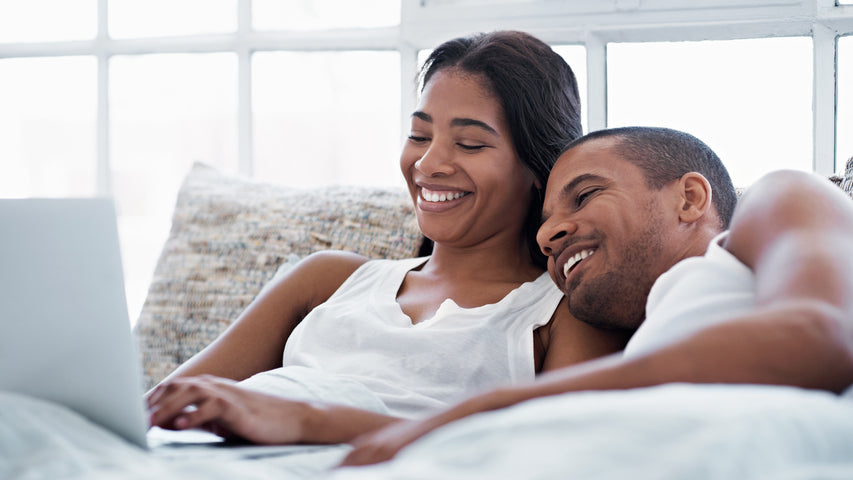 6 WAYS WATCHING PORN AS A COUPLE CAN ACTUALLY IMPROVE YOUR RELATIONSHIP
Couples who watch porn together, have fun together.
Let's talk about the P-word. Okay, a few P-words probably come to mind when it comes to sex, so we'll be a little more specific…

We're talking about porn, and more specifically, couples who watch porn together – which is a hot topic (no pun intended) in many relationships.

With its taboo reputation, it's common to wonder if watching porn is bad for a relationship — and there's no one-size-fits-all answer to that question.

Actually, let's back up for a second. Is porn good or bad for you? Let's talk it through here.
While there can certainly be some downfalls that come from watching porn as a couple, there can also be some sexy benefits. In fact, with the right mindset, doing so can actually improve your relationship. And we're filling you in on six reasons why below.

Six reasons why watching porn together helps
1

.

It can be an intimate bonding experience

Enjoying hobbies as a couple can be a great way to bond, and any activity where you both can get off is even better. Sure, it's not your typical couple's hobby like tennis or hiking — but watching porn together might just become one of your new favourite ways to spend an extra 10 (20? 60?) minutes together.
2

.

There's no need to sneak around

Porn may not be a big deal for some couples. But for others, it's a really sensitive subject – one that might even involve sneaking around and hiding the habit from each other. And in our experience, secrets don't make for great relationships.

So, rather than making porn a clandestine activity that could potentially cause conflict or insecurity in your relationship, encourage your partner to get in on the fun — and turn it into something you both can share and experience mutual pleasure from.
3

.

It encourages open communication

Imagine this: at the end of a long day, instead of having the same old conversation about how your day went and which coworkers are getting on your nerves, you're talking to your partner about what kind of porn you want to watch that night.

Much more exciting, right?

Watching porn as a couple will likely encourage some honest and open conversations you wouldn't have otherwise had. Talk about which genres turn you on, how it makes you feel, what you like, and what you don't like. Letting your walls down and improving your sexual communication skills is an excellent way to strengthen your relationship.
4

.

You could learn more about your partner

Watching porn together can also be a great way to get a deeper glimpse into each other's fantasies and sexuality. You might think you know everything about your partner – until you start delving into their porn preferences.

These conversations can be hard to have out of the blue. Maybe you're too shy to share a certain kink or afraid of being judged. But exploring porn together can spark a more natural conversation about it — and those newfound insights about your partner's preferences might lead to some incredible IRL sexual encounters after you shut down the laptop.
5

.

It can help get you in the mood

Speaking of intimacy, porn can be a surefire way to intensify your foreplay. Getting turned on and being a little naughty alongside your partner only makes things hotter. Plus, it can be a great way to stir up desire on those days when you're less in the mood.
6

.

It keeps things interesting

Who doesn't want to keep their sex life fresh and spicy? Watching porn as a couple can stimulate new ideas and inspire you to try new things. You're bound to discover moves and positions you wouldn't have tried otherwise, giving your bedroom activities an exciting boost.

But remember just because actors do it in porn, does NOT mean you should automatically be doing it to your partner. You know the whole Instagram vs. Reality concept? Well, that gap is even wider when it comes to porn. So, make sure you communicate those desires respectfully before attempting a sexual stunt you've seen on-screen.

Looking for more frisky ideas? Here are 5 reasons to introduce role-play into your relationship.
Some tips to get started
So, if all of this sounds good to you, how the heck do you even start? We've put together a few quick tips to help you out.
First and foremost, talk it through with your partner and find out if watching porn together is something you're both interested in.
If you're both on board, the next step is choosing which kind of porn you'd like to watch first. It might be a good idea to select something on the more simple and classic side so you can both ease into things. You'll also want to consider doing some research beforehand to find sites with material that you both feel good about.
Figure out where, when, and how you want to watch it. Are you going for cozy vibes? Sexy vibes? Big screen or laptop? Planning these details as a couple can add to the excitement and mutual enjoyment.
Discuss (honestly) how you felt about it afterwards.
Decide if you'd like to do it again, and if so, how often you'd like to welcome watching porn into your sex life.
Curious about ethical porn? Learn more here.
Of course, it's all about balance, and it's important to establish healthy habits and boundaries that both partners are comfortable with.

At the end of the day, some couples will love watching porn together while some may not. If it turns out you enjoy it, have fun with it! And if not, no worries. There are plenty of sexual adventures out there to explore with your partner. You do you. ;)
—

Are you on the hunt for more sexpert tips and advice that will help you feel really good about your sex life? Keep exploring the blog.