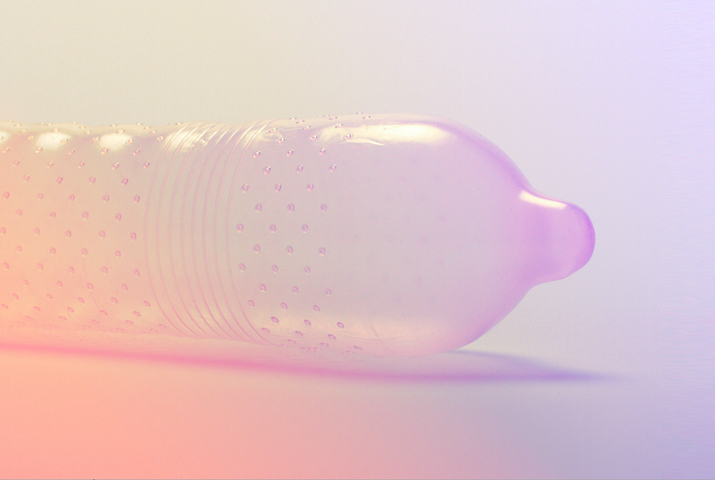 WHY DUREX RIBBED AND DOTTED CONDOMS FEEL GOOD
There's a lot to unwrap when it comes to ribs and dots. Ribbed and dotted condoms are textured condoms that are designed to heighten pleasure and offer extra stimulation for your most erotic moments. What do ribbed condoms feel like? What do dotted condoms feel like? Sensationally sexy, as they can provide more sensation than other condoms due to their extra texture.
All partners can take great pleasure in ribbed and dotted condoms - particularly Durex® Mutual Climax, Ribbed & Dotted Condoms with Delay Gel* and Durex® Intense Orgasmic, Ribbed & Dotted Condoms* as they're pre-lubricated and ready to perform just as well as you. Nothing feels better than a winning performance.
For her, ribbed condoms can help to stimulate nerve endings both inside the vagina and outside the vulva. Their ridges, by design, can cause more enjoyment and increased friction. More on that to come. And stay tuned for dot dynamics.
1

.

The Ribbed And Dotted Condom Experience

Are textured condoms right for you? And can they elevate your sexual experiences? Not only can they help protect against STIs and pregnancy worries, but they're designed with fun sextures (sexy textures) that feel different than standard latex or non-latex condoms. Let's unpack their benefits in the condom game and guide you to determine if they're the best fit for you or your partner(s).

With fit in mind, take a closer look at Find Your Fit: The Best Condom Styles Explained for a sleek overview of some of Durex Canada's protective products.
2

.

What Are Ribbed Condoms Meant For?

Ribbed condoms are meant to boost stimulation during penetration due to their unique design of raised ridges that are shaped around the condom exterior. They're meant to heighten sensitivity with the main goal in mind to continue keeping a high pleasure score. If you're wondering if the ridges interfere with sex at all, the answer is no (but it's up to personal preference). The ridges are small enough for comfort while being an experience in and of itself. Do ribbed condoms feel better? Well, if you or your partner(s) don't feel enough from standard latex or non-latex condoms, ribbed condoms are king.
3

.

What Are Dotted Condoms Designed For?

Dotted condoms are specifically made with raised dots, that form little bumps, on the condom exterior. They're placed this way to make penetration all the more pleasurable, as the semi-bumpy surface can spark extra friction than condoms without the added dots. As a contrast to typically smooth condom surfaces, the dotted designs are built to be more adventurous and give both the person with the penis and the vagina a riveting encounter. Dot your i's and cross your t's when it comes to having sex with these textured condoms.

For more on condom fittings, check out Better Fit = Better Pleasure - What Condom Size Should You Buy? and become familiar with how condom specs go hand-in-hand with best pleasure practices.
4

.

What's In It For Her?

Both Durex Mutual Climax, Ribbed & Dotted with Delay Gel* and Durex Intense Orgasmic, Ribbed & Dotted Condoms* include ribs & dots in their design to create many powerful moments. For her, Durex Mutual Climax* condoms help speed her up for added sensation and are lubricated on the outside to intensify her satisfaction. On the other note, Durex Intense Orgasmic* condoms come pre-lubed with Desirex gel that gives warming, cooling or tingling sensations that add to her pleasure.
5

.

What's In It For Him?

Durex Mutual Climax* condoms really put an emphasis on the mutual pleasure factor, as they also help slow him down so that he doesn't cum too quickly and instead keeps the good times rolling. They're made with Performax lubricant (a climax control lube) on the inside of each condom to help him last longer. It's a no-brainer that it'll help him perform with more control. Then, Durex Intense Orgasmic* condoms have a dual-action desire-stimulating design that works well to make him feel good. However, this product is more so designed with her pleasure in mind as its key differentiation is to bring stimulating sensations to her.
6

.

What Are Studded Condoms?

You may have heard the term 'studded condoms' and felt confused thinking they might be condom DIY, perhaps someone placing metal studs or jewellery on the material. This isn't true (or safe for that matter). Studded condoms are just another way to refer to the ribbed & dotted sexture of certain condoms, which we've covered.
7

.

A Quality Finish

There you have it - a lesson in textured designer condom pleasure. If there's a penis in the mix, we hope you or your partner(s) experiment with rocking this form of protective and functional fashion in the near future. Ribbed and dotted condoms serve their purpose in a world filled with standard protection, and they feature that much more personality. Are they true to yours?

Debunk common condom misconceptions in 4 Myths About Condoms That Just Aren't True - you may be surprised at what you hear!

*Ensure this product is right for you. Always read and follow the label before use.