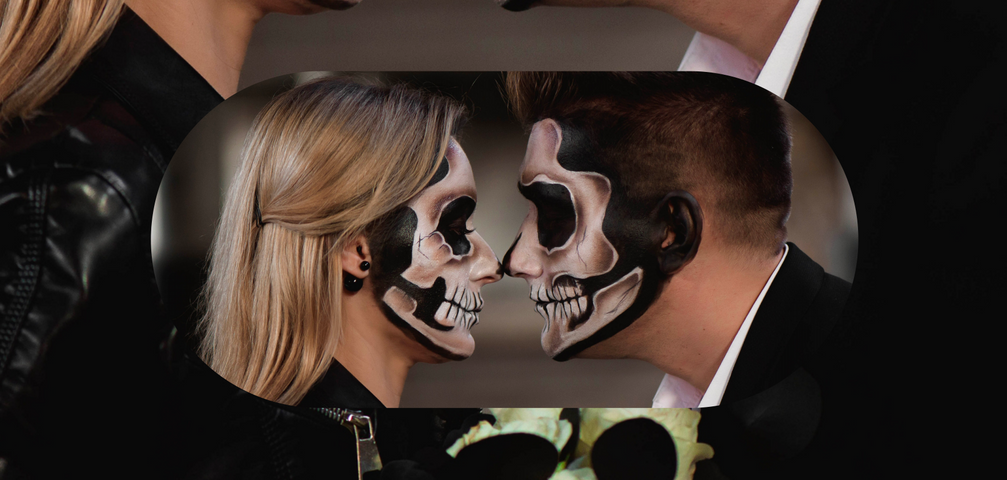 Don't Be Scared: 5 Halloween-Inspired Sex Positions
5 Creative Ways to Get Your Freak on This Halloween
Double, double toil and trouble – it's Halloween season, ghouls and boys! While your trick-or-treating days may be behind you, there is still plenty of adult fun to be had. We're talking about a bit of hocus pocus in the bedroom, baby. 
Of course, you can always add spooky vibes to your sex life by adding in sexy Halloween costumes or sprinkling in a selection of freaky Halloween sex toys.
If you want to get even more wickedly creative, here are 5 Halloween-inspired sex positions that will have you howling at the moon, letting out spine-tingling screams of pleasure... you get where we're going with this.
1

.

The (black) cat

This yoga-inspired sex position will have you feeling like a frisky kitty in no time. If you're unfamiliar with the cat (or more commonly referred to as cat-cow) stretch in yoga, here's a quick breakdown:
Start on your hands and knees (meow) with a neutral spine
Round your spine, tilting your chin towards your chest
This position can easily be adapted for sex – think of it as a creative twist on doggy style. Arching your back results in new angles, which can mean stimulating new sensations in the vagina and anus.
Slip on a pair of cat ears and something black and silky to finish things off (pun definitely intended).
2

.

The spider web

This position hails straight from The Cosmo Kama Sutra, so you know it's got to be good. To pull it off, lie on your side with your partner, facing each other. Then, intertwine your legs (think scissor position), which allows for deep and satisfying intercourse.

Enjoy thrusting away in this sexual spider web you've created together. Let your hands wander to other erogenous zones – if you dare.

LEARN ABOUT 7 EROGENOUS ZONES YOU NEED TO KNOW FOR ULTIMATE PLEASURE.
3

.

The ghost rider

White bed sheets are optional for this one ;). 

One partner should sit in a chair (make sure it's sturdy because things might get a little wild), or they could lie down on the edge of a bed with their legs off the edge if you prefer. Then the other partner should straddle them, either facing towards them or the opposite way. 

If the "rider" is facing in, they can grip the back of the chair while moving up and down for added momentum, while the person sitting grabs their butt and strokes their thighs for extra pleasure. 

And if you want to get positively ghoulish, incorporate a Halloween mask for this sexual activity. You can choose to go spooky or sexy, whatever floats your ghost.

 
4

.

The zombie

This standing folded variation of 69 requires some flexibility, but it will have you eliciting zombie-like moans if you do it right.

Have one partner sit on the ground while the other stands straddling them (facing away). When the standing person bends forward to reach their partner's lap, their own naughty bits can be in a prime position to achieve mutual pleasure – orgasms all around. 

Add in some extra thrills and chills with the Durex Intense Bullet vibrator.

STRUGGLING TO ASK YOUR PARTNER FOR WHAT YOU NEED TO ORGASM? HERE'S SOME ADVICE.
5

.

The (haunted) bridge

This is another pose that yoga lovers will recognize. To achieve it, start in the missionary position. From here, the partner on top should move to a kneeling position while their partner arches their back and lifts their butt and hips up (forming a bridge). And from there, you know what to do.

This creative angle can result in increased stimulation and pleasure while allowing you to get your yoga on at the same time. What's not to love about that? To put a spooky spin on this one, just add a sexy Halloween mask.

We hope we've helped inspire you to have bone-chillingly good sex this Halloween and beyond. Continue exploring the blog for more tricks and treats to add to your toolbelt.

SEARCHING FOR EVEN MORE EXCITING SEX POSITIONS? CHECK OUT THE 5 EASIEST (AND MOST CHALLENGING) POSITIONS.