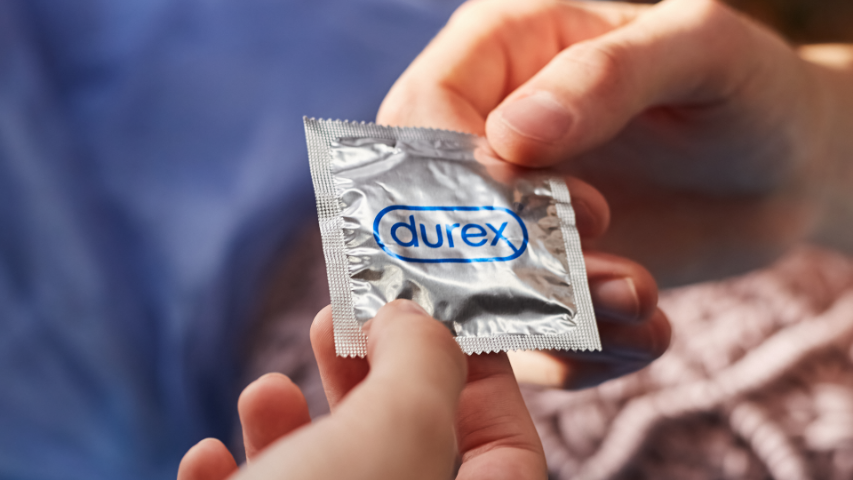 How To Have Safe Sex
Of course, nothing feels better than having great sex. We would know this best. It's a powerful feeling - being in the pursuit of pure pleasure and finally getting to the point where those sexy doors have opened up, just about ready for you to enter them. But before you do, you must be aware of safe sex methods in order to have sexual intercourse with significantly reduced side effects or consequences. That's where we at Durex Canada step in.
Let's clear something up from the jump, something we get asked all the time: does sex feel good with condoms? Absolutely, safe sex definitely feels great. In fact, it feels better knowing you're protected. We know protection = pleasure, and you can't have one without the other when it comes to engaging in the safest sexual practice. Sexual intercourse is a dish best served protected, and we have the tools to help you engage in it.
However, safe sexual experiences are not the same for everyone. Let's say two women with vaginas want to engage in safe sex, how can they go about it? Or say multiple people want to have a sexual experience together - how can they go about doing it safely? On top of the typical heterosexual sexual intercourse, we'll unpack other ways to engage in safe sex that move beyond the condom (and we'll still wrap up the condom talk). Our health & safety class of sexual tips starts now.
Safest Sexual Practices For Everyone
Sexual intercourse and safe sex is an inclusive experience, therefore we're going to outline simple safety measures that everybody can apply when involved in a sexy situation. It's important to practise safe sexual intercourse in order to lower the chances of getting an STI (Sexually Transmitted Infection) or getting pregnant (if the sexually active person has a uterus).
For more medical information and commonly asked sex questions answered, look into Safe Sex - Ask Your Pharmacist to get more clarification about sexual intercourse safety tips.
1

.

A Sexual Prelude
Before we get into it, you must remember the most important step that leads to a safe sexual experience: getting consent. Consent is the focal point to every new sexual interaction, and even stated in long-term relationships with your partner(s). Consent should never be assumed. Rather, it should be a discussion of boundaries and an initial agreement. Make sure your sexual partner(s) or promising sexual partner(s) are in line with the sexual act before it takes place. Also note that substances like alcohol or drugs can impact someone's ability to give consent, so keep in mind that the validity of sober consent overrides intoxicated communication.
2

.

How To Have Safe Vaginal Sex
Before engaging in sexual intercourse with a vagina, urinate first. This can help prevent urinary tract infections and make the sex all the more pleasurable. If there's a penis at play, planning to penetrate, use a condom that best fits to ensure a protected sexual encounter. If there's only fingers at play, consider using Durex Intense Orgasmic Gel* to amp up the intensity and bring warming, cooling or tingling sensations to the clitoral region.
To ensure the best-fitting and most pleasurable safe sex scenario, read Make Sure Your Condom Size Fits You if there's a penis involved for condom confirmation instead of condom estimation.
3

.

How To Have Safe Anal Sex
Anuses typically don't come pre-lubricated so, on top of choosing the right condom that best fits, it's a smart idea to use a lube or pleasure gel to help make the safe sexual intercourse even wetter and smoother. We recommend Durex Original Lubricant* for a light, water-based and non-staining option that's designed to increase slickness during sex. If there's only fingers at play, keep the hands nice and clean by washing them beforehand before entering with the help of lube.
4

.

How To Have Safe Oral Sex
Contrary to some, engaging in oral sex can still run health risks because there's mouth-to-genitalia contact and bodily fluids are at large. If the mouth is planning to come into contact with a penis, we recommend wrapping the penis with a condom that fits best first. If the mouth is moving towards a vagina, we recommend asking a pharmacist or doctor about dental dams in order to have peace of mind about safe sex orally.
5

.

Other Meaningful Measures
On top of what we've already discussed, there are other sexual tips to consider in order to have sexual intercourse safely and sensibly. Those measures include:
If you're a woman with a vagina, asking a doctor about the pill (or birth control) in order to help prevent pregnancy
If you're sexually active, or have new or multiple sexual partners, going for regular STI testing at a safe sex clinic
Keeping open communication, especially honest sexual conversations with those you wish to get sexual with
Knowing the width/girth of the penis in order to get accurate sizing, then determining how wet or thin the condom preference is (Durex Find Your Right Fit tool can help with this)
6

.

Have A Safe One
How was that for a sexual intercourse (and more) safety lesson? If you want additional information about preventative sexual health measures, explore the rest of our blog for more sexual tips and ask your doctor or sexual health clinic rep about your situation. There's always solutions. Also, make sure you ask your partner(s) their STI status before engaging in sex - and keep that conversation open. It's health-conscious, and you're not in it alone! Much like preparing your suitcase for a satisfying vacation, pack these safe sexual tips into your future sexy plans.
Speaking of trips, look into Can You Carry Condoms On A Plane? for safe insights before taking off.
*Ensure this product is right for you. Always read and follow the label before use.