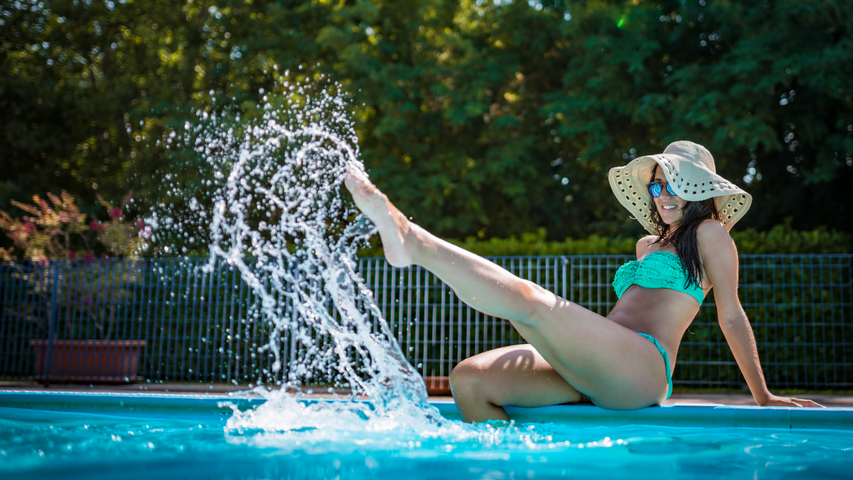 SQUIRTING 101 - GUIDE ON HOW TO MAKE A WOMAN SQUIRT
Nothing feels better than a wet orgasm, but for some women and people with vulvas they may still be longing for their first-time squirt experience. There's a lot of misinformation surrounding the squirting phenomena which could be the reason why not every person with a vulva has had their vagina squirt era. What does it take to make a woman ejaculate? And what exactly comes out when it happens? Not to worry, we have the best squirt answers in store.
Before we get to the gushy material, let's start with defining squirting. Squirting is the act of releasing a clear-ish liquid from the vagina when they are stimulated or aroused to the point of undeniable orgasm. It's a feel-good sensation that's a lot different than the act of peeing (though some may believe they're one in the same). This form of ejaculation leads to a wet orgasm and is otherwise known as the vagina squirt sensation.
But, how does this pleasure fluid come about? How do you make her squirt? Or how do you make yourself squirt? While it may take some work to hit the right spots, or you may discover squirting just can't happen for you or your partner(s), it's worth a try. Afterall, it's a powerful release that can change the trajectory of your sex life moving forward in the most pleasurable way possible.
1

.

Our Most Humble Best Squirt Advice

Figuring out how to make her squirt or how to make yourself squirt shouldn't be an uncharted land, a fable, or an impossible feat. However, there are valid situations where someone may not be bodily able to perform a squirting sensation. Popular porn may have made women believe that squirting really is so easy but, in reality, it can take a village of effort. Also, squirting may arise from different volumes - not all squirts are the same spurts! They could be expelled as a squirt, gush, or drip. Sheet soakers or puny little puddles. Isn't that cool?

Now let's get into first time squirting tips & tricks for all those craving a little extra rush during their sexual experiences. Whether you aim to make yourself naturally flow, your wife squirt, or your partner ooze with pleasure, these suggestions can help you get there.
2

.

Relax and Take Time

Good things cum to those who wait, so take some pressure off the potential squirting situation by releasing built-up tension in the body. Our couples & massage lubes* can help with that, as they're designed to ease the physical form and keep the excitement coming with high-level teasing. Also, make sure you're in a fairly waterproof area as a force squirt may be unexpected and go far places. We recommend laying out towels in your private dwelling prior to practising how to make her squirt (or yourself squirt).

For more sexy activities that can take place in the bedroom, browse Take Her To Paradise for more hidden gems.
3

.

Get Aroused

Arousal will help make your partner(s), or yourself, more comfortable and receptive to being touched. It will also help build up fluids necessary to have an orgasm in the first place. We recommend using sex toys like the Durex Intense Bullet* vibrator to help add extra pleasure to intimate areas, or throw on a sexy movie that you know will turn you or your partner(s) on. All these little things can help a first time squirt come to life.
4

.

Locate The Pleasure Spots

Find the vaginal area necessary for knowing how to make her squirt so the squirting magic can excitedly begin. Touch around the vagina, caress it, and see what sensations may come. Clitoral circling can help produce a vaginal squirt sensation. For some, they may even squirt without any direct stimulation to the vulva. However, it's vital to explore all methods and keep communication constant. We recommend fingering to penetrate and stimulate the vagina and clitoris.

For extra fingering advice, read Fingering & Sex: How To Finger A Woman and you may just end up with the best finger flex on the block.
5

.

Stimulate With Success

Move soft and slow at first, really amping up to cross the finish line. We recommend using a water-based lube* to help smooth along the experience and decrease vaginal dryness or discomfort. It's another good idea to try the Durex Intense Bullet* vibrator again, really aiming to massage the labia with vibrating sensations. Motion your or your partner's hands to stimulate at a pace that works. Knowing how to make her squirt can take some getting used to. Remember: everybody is different - some may prefer high intensity while others can get off gentler.

For a gentler approach, check out How To Please A Woman During Foreplay Using Durex Lubes.
6

.

Be Prepared For The Finale

When you or your partner(s) are getting really really wet, there may be a pee-like feeling right before squirting for the first time and that's perfectly normal. This is a common occurrence right before a squirt happens and doesn't need to be mistaken with peeing all over the place! Once the vagina is ready to release the sensation, you can move your hands away and watch the show before you. If it doesn't happen this time, try again next time! Squirting has no expiration.
7

.

Final Wet Words Of Wisdom

Okay, so now you or your partner(s) may be ready and willing to try their first-time squirt after learning how to make a woman squirt with our touchy tips. Do keep in mind that squirting may take a lot of time, energy, and practise to complete but the pleasure benefits for her will feel immaculate. We're no weather reporters, but we predict wet patterns ahead.

*Ensure this product is right for you. Always read and follow the label before use.