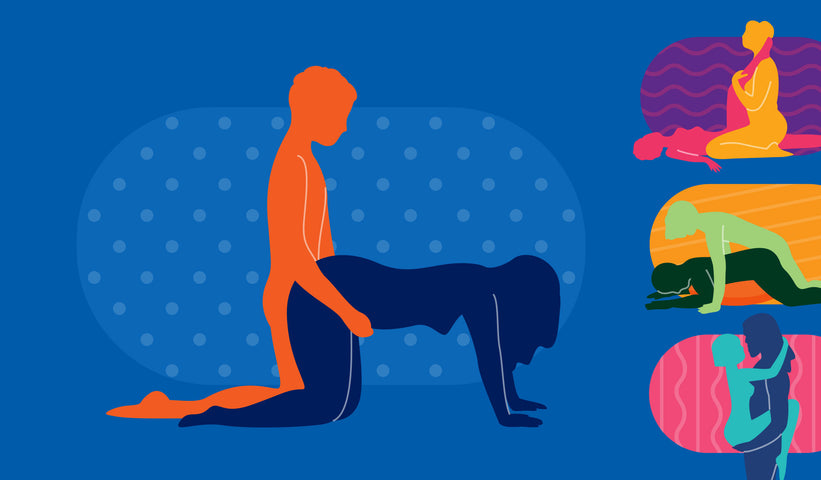 THE DUREX 30 DAY SEX CHALLENGE
Keep your sex game sizzling this year with 30 sex positions in 30 days
Have you been dreaming about dabbling in some new sex positions? Fantasizing about beefing up your sexual resume? We've got just the thing for you. Our 30 Day Sex Challenge offers 30 sex positions to experiment with. Think of it as 30 days of getting a good old-fashioned workout in and sweating out the sexy stuff. We'll start things off slow and get a little more intense each week. So mark up your calendar with a new sex position daily, choose your player of Durex condoms*, and enjoy every minute of it. Let's get started.
WEEK 4 – FULL-BLOWN SEXPERT
23

.

Mile High Club

For this position of the day, face each other and have one partner lift the other up and pin them against the wall (hot!). The pinned partner wraps their legs around the other's waist and grips on by clenching their thighs.

Sex positions where standing is involved will often result in both parties orgasming quicker than normal – so try this one if you're in a hurry (or you're just excited to catch that new series on Netflix after).  
24

.

Thigh to Thigh

For today's position, one person should take a kneeling position. The other lies on their back in front of them with their legs lifted in the air, and the back of their thighs resting on the front of their partner's and their feet wrapped around their neck. 

We know this might sound a bit acrobatic, but we're confident you can rock sex positions that involve new forms. Once you feel sturdy, the kneeling person lifts their partner's hips to penetrate. Party on.
25

.

Suspended Congress

This position is popular in movies. One person has their back to the wall while the other lifts and holds them up (under their buttocks). The person against the wall can wrap their legs and arms around their partner for added stability. Kinky!  
26

.

The Squat

This position of the day is for all the gym buffs out there. One partner should lie on their back while the other squats on top (face to face). The person on top can then move up and down, resulting in very pleasurable sensations for everyone involved. Consider your workout for the day complete.
27

.

Late Spring Donkey

This position involves one person standing up and bending over, keeping their legs as straight as possible and placing hands flat on the ground for balance. Then, the other partner grabs hold of their waist and (gently) enters them from behind. Take it slow with this one to get accustomed to the new angle. With sex positions like this, we recommend adding in some Durex lube* to make things feel extra amazing.
28

.

The Butterfly

This 30 day sex challenge position is akin to the missionary position, but with the power turned up. The receiving partner lies back at the edge of the bed with the penetrating partner standing in front of them. Then, the person on the bottom can choose to drape their legs over their partner's shoulders or relax them out to either side. Legend has it, if you do this position correctly, you will look just like a butterfly.
29

.

Side Splitter

It's the second last position – let's make it count! For today's position of the day, one partner lies on the floor on their back with one knee bent. The receiving partner then faces away and straddles the bent leg – lowering themselves down and experimenting a bit until you both discover what feels good. Sex positions like this will always pair nicely with Durex lube*. 
30

.

The Dragon

You've made it to the last day of our 30 Day Sex Challenge! Let's end things with a bang (ahem). One partner lies on their stomach with their arms raised above their head. They could place a pillow under their pubic bone if desired. The other lies in the same position and enters from on top. The penetrating person should move in a circular motion, stimulating the entire vagina and maxing out the pleasure.

--

There you have it, folks – 30 sex positions in 30 days. If you've completed our 30 Day Sex Challenge, we commend you! You're practically a sexpert now. Use this momentum to keep your sex positions steamy and tantalizing. And for more sex tips and advice, keep exploring the blog.

*Ensure this product is right for you. Always read and follow the label before use.