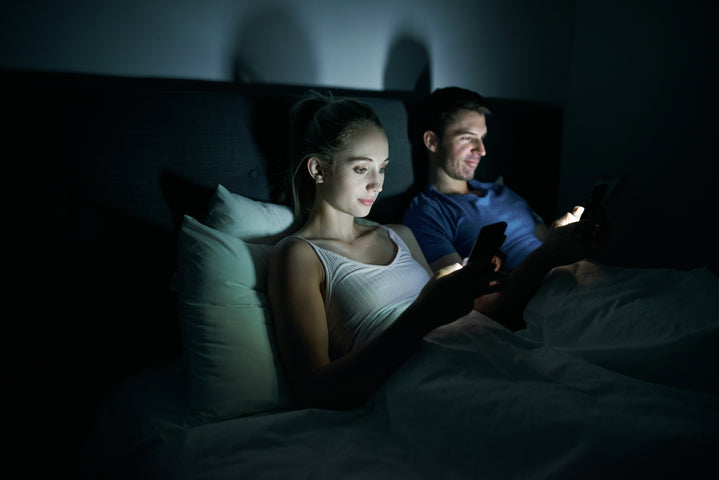 WAYS TO IMPROVE YOUR SEX LIFE
If you're feeling bored in the bedroom (or kitchen, or living room, or bathroom, or wherever else you get it on), we have some methods surrounding how to improve sex life that can amplify those much needed orgasms.
Sexual pleasure comes in many colours. For some, it's a longer, intimate, and romantic moment of connection. For others, it could be more quick & dirty. It's all personal taste, and we're definitely not here to judge. But how do you know you're living your sexual life to its fullest? And what are the ways to improve your sex life?
1

.

Pleasurable Ways To Improve Your Sex Life
Everyone should be able to experience the exhilaration of a sexual rollercoaster but, sometimes, people can lose their spark doing the same ol' routine. And it's never too late to modernize your sexual life.
No matter who you are, and what kind of sex you're comfortable having, these following suggestions are inclusive pleasure activities that add an extra dose of fun for both members of the LGBTQ2IA+ community and straight people.
Because in this sexual life, we aim to please. Now, let's talk about some pleasurable ideas to have a better sex life.
Since it's hot, feel the heat with our 5 Easy Ways To Heat Up Your Summer Sex Life.
2

.

Air Out Your Desires
Okay, so this one isn't too sexy per say but it's an incredibly important start on how to improve your sex life, and it can lead to newfound pleasure.
Sometimes, sexual chemistry may fizzle out due to lack of communication. Practice having conversations with your partner(s) about what really turns you on and encourage them to talk about their own intimate needs as well.
Even if your desires don't exactly match up with your sexual partner(s), you can come to a compromise and get creative using these following tips that can lead to a better sex life:
3

.

Introduce Some Lively Roleplay
Have a character fantasy that you want to see come to life? Suggest this activity with your partner(s)'s consent and use your imagination to enact whatever role you both choose to play. This can be one of the best ways to improve sex life because it keeps things interesting, original, and taps into subconscious desires that don't need to be kept in secret.
For straight people, allow yourselves to experiment with moving beyond stereotypical gendered play. Women deserve to hold power and take charge over their male counterpart(s), and vice versa. Don't feel limited to cliché power dynamics.
Flex those dominant and subordinate characteristics we all have in us and go off to get off like never before.
Nothing feels better than owning your sexuality.
4

.

Invite Lube To The Party
It's not good to keep things bottled up. That is, of course, unless you're talking about bottled lube!
Another valuable tip on how to improve sex life is by adding lube into the sexual equation. Since lubricants are designed to make sex run a lot smoother, why not squirt a little bit out during your next sexy time?
We have a whole collection of lubes* to help you and your partner(s) tingle, cool down, or warm up in a variety of different solutions. Our smooth lubricants are a great addition to fun foreplay, body massages, or steamy penetration. The best part is: they can be enjoyed by everyone – regardless of gender!
So consider adding some lube to have a better sex life. Trust us, it's a worthy solution.
5

.

Masturbate In Front Of Your Partner(s)
What might sound awkward at first, this sexual life improvement tactic can become one of the best ways to improve sex life as it allows your partner(s) to see you enjoy personal pleasure, which can improve the intimacy in your sex life.
Showing them exactly where you run your hands to give yourself pleasure can help them know where to hit the spot when they have a turn. This presents a deeper level of vulnerability and welcomes closeness in a sexual setting.
And if you happen to release fairly easily, and have the energy for more, look to Twice Is Nice: Tips For Going Again for feature-length pleasure advice.
6

.

Say Hello To Adult Toys
Still wondering, 'how to improve my sex life?' Sex toys are a stimulating way to improve your sex life because they offer sensations that can't necessarily be felt from a human touch.
Some may be multi-purposeful, such as our Durex Intense Bullet* vibrator as it uses powerful vibrations that can stimulate the nipples, clitoris, perineum, or wherever else you seek enjoyment.
Other sex toys may be intended for one main purpose, such as our Durex Pleasure Ring* – a cock ring designed to help him stay harder for longer leading to more intense pleasure for partner(s).
Whichever sex toy you choose to shop, they're all intended to strengthen sexual connections while acting as a pleasure enhancement.
If you're looking for more tips on deepening the sexual connection with your partner(s), read The Art Of The Simultaneous Orgasm to see how you can get even closer.
—
After learning about these potential ways to improve your sex life, do keep in mind that a fulfilling sexual life looks different for everyone – so check in with your partner(s) to get a scope on how they're feeling before getting creative.
And if everyone's on the same page, your sex life can feel like a brand new adventure with even more pleasure.
We wish you many more orgasms ahead.
*Ensure this product is right for you. Always read and follow the label before use.