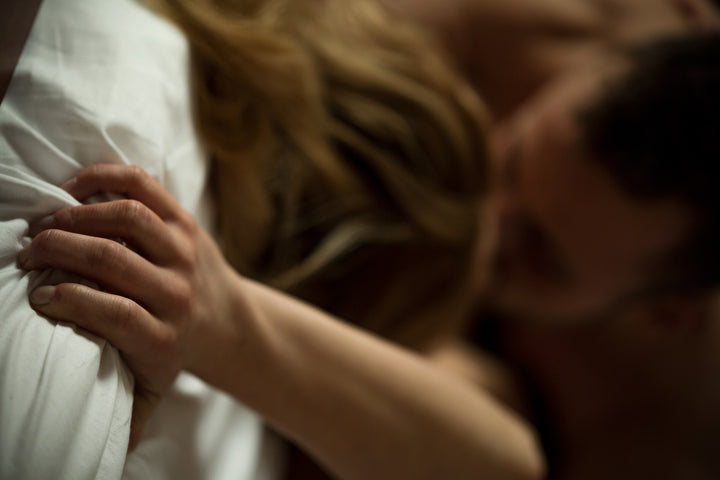 5 Oral Sex Tips To Make It Feel Amazing
It's going down
5 Oral Sex Tips for First Timers & Experienced Lovers
Wondering how to give good oral sex? What about receiving? It all starts with a good connection. Oral is one of the most intimate (and done correctly, mind-blowing) things you can do for another person, so it always helps to feel safe and comfortable with one another.
But even then, a lot of people are put off by the fact that they might not be "good enough" at doing it, shy about their bodies, or a little embarrassed about how they'll do — even with a long-term partner.
All you need is the right mindset, and the rest will come naturally (in more ways than one). With that in mind, here are 5 of our favourite oral sex tips for everyone — so you can make the most of your experience together.
Here are 5 sex tips for oral everyone should try:
1

.

 Make yourself comfortable

Of all the oral sex tips out there, this one has to be the most important. The very first step is making sure everyone feels comfortable, physically and mentally. That starts with making sure everyone is ready and willing to get it on. From there, you'll want to find a good location — and the bed is always a great starting point.

Pillows, cushions and duvets arranged properly can all help make the experience more relaxing, and they'll also give you a chance to to experiment with different angles and positions.
2

.

 The orgasm isn't everything

One of those key first time oral sex tips: don't worry so much about the final destination! At one point or another, we've all been guilty of concentrating too much on the end goal (the orgasm), which can sometimes spoil the act completely.

Similarly, sometimes the person receiving oral gets in their own head about how long it's taking them to reach climax, or appears bored when they're really just trying to focus on the pleasure. Meanwhile, those giving oral sex may worry that their partner is not climaxing because they are not enjoying what is being done to them — but it's much more likely that they're just savouring the moment.

So, whether you're giving or receiving, just try to enjoy the ride. The important thing is to relax and enjoy the intimate closeness, even if oral sex doesn't result in a climax.
3

.

 Verbalize those feelings

Fun fact: one of the most effective sex tips for oral has nothing do with your erogenous zones! If you are one of those people who find themselves worrying about whether your partner is enjoying the oral sex they are receiving from you, it's always worth checking in with them.

Sure, you can keep your eyes and ears open for the visual clues that your partner is enjoying themselves — and that's a great starting point for how to give good oral sex. But unless you're a mind reader, it'll never be a sure-fire way to figure out what they do and don't like.

A much simpler approach: just check in with them. Ask them if they are enjoying what you are doing or if they would like you to try anything else. This should help you to relax into what you're doing by removing the question mark around whether your partner is having a good time or not.

Remember: sexual communication is a two-way street. If you are receiving oral, be sure to give your partner feedback during the fun. Not only will it boost their confidence, it'll also ensure they keep doing the things that make you feel great.
4

.

 Add some lube

Win-win situation for everyone involved. The added wetness will make oral sex feel even better for the receiver, and the giver. It's also a great way to ease yourself into oral if you find the natural taste a little off-putting.

We suggest Durex Play Passion Cherry, which is deliciously flavoured, sugar-free, and totally suitable for oral, vaginal, or anal sex.
5

.

 Incorporate a sex toy

We saved our most adventurous oral sex tip for last. Although the mouth and tongue are the main pleasure-givers during oral sex, there are no rules to say that they must be used in isolation from everything else. Vibrators and cock rings can make the experience much more fun and enjoyable for both parties.

 ----

Looking for some more oral sex tips, or just some other ideas to spice up your sex life? Perhaps you are looking for sex position inspiration, or maybe you are looking for some advice on how to give an amazing blowjob? We've got you covered in our Explore Sex blog. Head over and read more now.