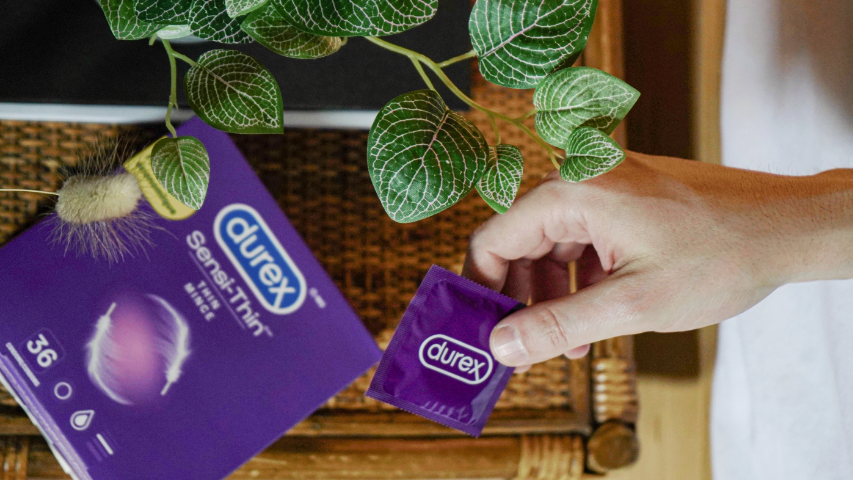 Better Fit = Better Feel - Know What Condom Size To Buy
Penises come in all sorts of different shapes and sizes and, luckily, so do Durex condoms*. But it's important to find the ones that fit you or your partner(s) just right to ensure the best protection and the most pleasurable feeling. Afterall, nothing feels better than the perfect fit.
When figuring out what condom size to buy, a few key qualities must be considered: width of penis, thinness, and wetness. Learning how to know what size condom to buy must take these attributes seriously in order to avoid negative sexual consequences such as slippage or breakage, to name a few. Let's meet the matches.
1

.

Find The Perfect Fit
Knowing what condom size to buy not only can mean that you'll be having safer sex and be more protected from unwanted STIs - but it'll also feel better for you and your partner(s). Durex condoms are designed to fit all types of sizes, stretched to fit different widths, while still leaving ejaculation space at the tip. But condoms fit everyone differently, so it's important to find your right fit to ensure ultimate pleasure.
So, what should you be looking – and feeling – for? And how tight should a condom be? The best condom choice should feel 'snug' and comfortably sit over the full length of the erect penis, with a little room at the tip. When a condom fits just right, it should stay intact and in place until sexy time is finished.
Discover which condom style will best fit, and why condom size really does matter using the 'find your right fit' tool. This tool allows people to choose their best fit possible in 3 easy steps based on width, wetness, and thinness. It matches people to the right Durex condoms for them and makes the 'what condom size to buy' decision a whole lot easier.
On top of the tool, learn more about the different types of condoms we offer in Find Your Fit: The Best Condom Styles Explained.
2

.

Got Girth?
If the penis is on the wider side, Durex has two XL condoms that will better fit the D-iameter. Durex® Invisible XL Condoms* and Durex® Sensi-Thin XL* ensure better fit and pleasure for those with girthier penises. Both Durex XL condoms have a nominal (base) width of 57mm when flat. Look to both options if you or your partner(s) require a little more room instead of choosing a tight condom that's far too uncomfortable for the package at hand.
To find out more girthy information, check out The Right Condom Girth Size for a closer look at penis measurements and fit options.
3

. 

Too Lose?
Knowing the width of the condom is important to make sure it fits just right. If the condom always slips off or feels baggy, it's well worth it to look at snug condoms like our Regular size Durex® Invisible* ones - our thinnest condoms designed to maximize sensitivity while providing high-level protection. They have a nominal (base) width of 52mm when flat to help provide pure pleasure when placed on. No one deserves a loose-fitting condom. In fact, if it's too loose it's too obtuse.
4

. 

Too Tight?
How tight should a condom be? It should fit very comfortably. With width in mind, too-tight condoms on the penis will tend to feel uncomfortably snug and can lead to breakage that can be avoided. In this case, look towards other sizes and selections such as our Large Durex® Sensi-Crème Original* or Durex® Intense Orgasmic, Ribbed & Dotted Condoms* that have nominal widths of 56mm. They feature more comfortable fits for wider packages and pack great sensitivity points when in action.
5

. 

How Thin?
Condom thinness refers to the width of the condom material (its wall). Choosing a thinner condom can also improve your pleasure. Slim fit condoms such as Durex® Sensi-Thin* or Durex® Avanti Bare Ultra Thin* offer the same high level of protection as our other condoms but help you feel closer to your partner(s) during sex because of their ultra fine thinness. Nothing feels better than exceptional sensitivity, and these choices do just the trick.
6

. 

How Lubricated?
Lubrication refers to the smoothness of the condom and is the driving force of minimizing rough and annoying friction that can be caused from sex without added lube. Every Durex condom comes pre-lubricated so you can glide into business with a lot less irritation. For those who like it extra smooth, our Durex® Invisible Ultimate Thin Condoms, Extra Lubricated* have an additional coat of pleasure that adds to the excitement for a smoother sexual experience. On top of our condoms, check out the lubricant selection that can act as an extension on top of knowing what condom size to buy.
For extra lubricant lessons, turn to The Hottest Tips On How To Use Lube During Foreplay before having sexual intercourse and penetrative sessions.
7

.

That's A Wrap
Once deciphering how to know what condom size to buy to best ensure protection and pleasure, it's only natural you can now soar into sexual experiences with more confidence. It's time to take off the kid gloves and use the adult gloves. Please remember that one size doesn't fit all when it comes to condoms, so know your fit in order to have sensational pleasure.
*Ensure this product is right for you. Always read and follow the label before use.