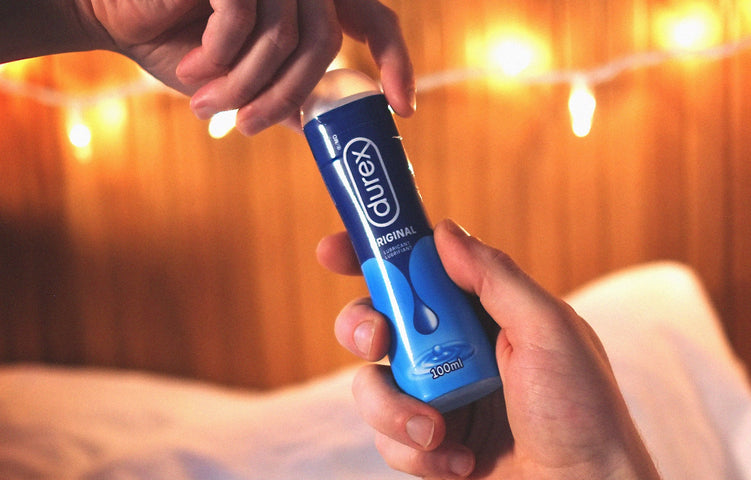 YOUR PERSONAL GUIDE TO LUBRICANT PLEASURE
The Lube Diaries
Got lube?
We sure do. It's the substance that helps make sex run even smoother! Whether you've been using lube for a while and are just looking for some new tips, or want to start your newfound pleasure journey, this guide will clear the air on the wonderful world of lovely lube.
1

.

Your Personal Guide To Lubricant Pleasure

Nothing feels better than being extra prepared, and a good lubricant can help make your most pleasurably heated moments go more seamless. Read on to get the answers to some popular lube-based questions and find out how you can use them to create even more comfortable satisfaction. 

Always read the instructions and use as directed. Remember: lube is not a contraceptive.
2

.

What Is Lube Used For?

Lube is a specially formulated gel or liquid that can be used for oral, vaginal, and anal sex to ensure a smoother sexual experience. Some Durex® lubes* are also great for body massages and foreplay. Other lubes are perfect for those moments of masturbation. In general, lubricants give you something fun to experiment with and help make penetration more pleasurable for all involved.

On a pleasurable note, look to 6 Reasons Why It's Not Rude to Lube in order to be more convinced of the satisfying bonuses of this sexy product.
4

.

Can Condoms And Lube Be Used Together?

Most Durex lubes are suitable to use with latex condoms, but you should always read the label on the bottle just to make sure. Durex Real Feel Pleasure Gel* is a great option to consider.

Watch out for oil-based lubricants; these are generally not safe to use with condoms as the oil can cause the latex to break down.

For more on condom instructions, check out How To Put A Condom On Correctly For Safe Sex.
5

.

Is Lube Safe to Swallow?

If you're giving or receiving oral sex with lube in the mix, it's generally okay to ingest a little bit* of water-based lubes. We'd strongly recommend using our Durex Passion Cherry lubricant* if you end up getting some in your mouth – since it's cherry flavoured and sugar-free. Pro tip for all lubes: avoid contact with eyes, broken skin, or wounds.
6

.

How Much Should I Use?

As much as you like. If you're trying a new lubricant, or this is the first time you've used lube, start off with a small amount, gently applying it with your fingertips. Then, feel free to add more as the mood takes you.

Some lubes such as Durex 2 in 1 range also double up as massage gels*, so why not spice up your foreplay with a massage?
7

.

What's the Shelf Life of an Opened Lube Bottle?

As a general rule, lube should be used within three months of opening the bottle. The best place to store it is in a drawer or cupboard, away from direct heat or sunlight and well away from pets and children.
8

.

Can I Use Lube for Masturbation?

A big 'Yes' to that one. Lube can be a perfect playmate when it comes to masturbation.

If you like a little extra stimulation while you masturbate, use our zingy Durex Play Tingling Lubricant* – designed to cool, tingle, and add more electricity to the party.

For moments of mutual masturbation, try our Durex Yours + Mine Couples Lubricants* – where his bottle provides invigorating, warming sensations while her bottle provides thrilling, tingling sensations that keep the excitement coming.

With masturbation in mind, read The Hottest Tips on How to Use Lube During Foreplay which can help heat up those intimate teasers.


–

We hope you found intense pleasure in this lesson on lube and find yourself enjoying smoother sex-periences moving forward. 

Ensure this product is right for you. Always read and follow the label before use.