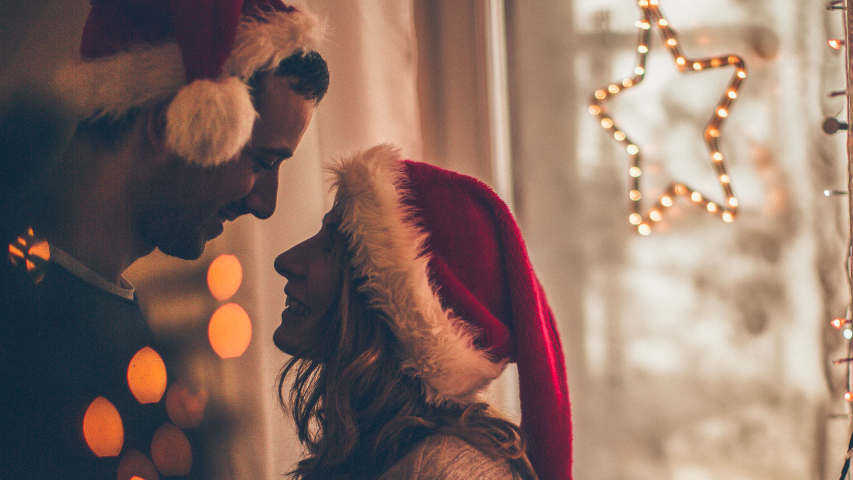 Naughty Or Nice: 12 Days Of Sexmas Ideas
Have you been naughty or nice? Our guess is: you've been a bit bad this year but really good in bed. If that's the case, you definitely want to check out our list of the sexiest Christmas gifts to give yourself or your partner(s) right before the magic of the season comes to a climax.
In our 12 days of Sexmas, you'll find a new pleasure present behind each new day - presents in which you can explore more of and potentially purchase. Each featured Durex product can help you heat things up before the holiday season, during the celebrations, and after the holidays are over. Nothing feels better than good tidings.
These Christmas sex starters can also act as a prelude to play with before the main event. You can think of them as joyous carols in the form of pleasure objects that can help you sing sweet orgasms. Ready to make it a not-so-silent night?
12 Days Of Sexmas Countdown
In order to have the most wonderful time of the year, you have to consider all the little helpers that make Christmas sex so magical. By that we mean Durex products that not only provide protection but a lot of pleasure for you and your partner(s). Whether you celebrate Christmas, Hanukkah, Kwanzaa, or other festivities during the holidays, these 12 days of Sexmas ideas are for all. Let's light the fire.
1

.

Day 1: Start With Great Wrapping
Most holidays begin with wrapping presents. And when there's a penis in the mix, you better wrap it up with a suitable condom. Check out Durex Invisible* for an extra thin condom that's designed to maximize sensitivity without sacrificing protection. Start your 12 days of Sexmas with a sleek fit.
2

.

Day 2: Warming Up Now
Because this season gets super chilly, why not raise the temperature with Durex Play Warming* to fulfil those thrilling moments spent indoors with your partner(s). Fireplace optional.
3

.

Day 3: Come Closer Than Ever
Durex Mutual Climax* condoms pack those ribs and dots that make her feel super good and are specially lubricated to help him last longer. For heterosexual couples, it's a real treat and helps make everyone extra close.
4

.

Day 4: Intensify Her Satisfaction
Looking to give her phenomenal Christmas sex days early? Check out Durex Intense Orgasmic Gel* that's designed to make her orgasm even more heightened. She'll be coming around the bedroom when she comes, for sure.
5

.

Day 5: Make Him Last Longer
Wanting something more for him? Get in touch with Durex Duration Gel for Men* for a desensitizing experience that'll help him last longer and enjoy every moment. An ejaculation saving grace.
6

.

Day 6: Mid-Way Good Vibrations
Half way through 12 days of Sexmas ideas, let's recommend a toy in our workshop. Get to know the Durex Intense Bullet* vibrator for a personal, solo session or added stimulation with your partner(s). It's comfortable, discreet, and perfectly powerful.
7

.

Day 7: Reality Is Setting In
Nothing says real sex life quite like Durex Real Feel* pleasure gel which provides a longer lasting experience so you can get it on longer. Really, it helps make holidays go even smoother.
8

.

Day 8: Get In A Massage
After all the stress of holiday shopping, you or your partner(s) may be in need of a good massage. Our Durex Play Massage 2 in 1 Aloe Vera* can work to soothe every part of the body while also acting as a personal lubricant!
9

.

Day 9: Share The Love
Are you loving the list so far? Admire Durex Love* condoms too - which come lubricated and are shaped for great fit and feel. Your partner(s) may just fall even more in love with you.
10

.

Day 10: Sing Together
For something sexier than belting carols together, don't count out Durex Intense Orgasmic, Ribbed & Dotted Condoms* for upcoming sensational orgasmic sounds from her mouth. They're condoms designed to provide stimulation for her so, if you have female partners, it's a wonderful ballad.
11

.

Day 11: Feel The Classics
Everyone loves a classic holiday movie, so why not enjoy some sexy time with a classic condom before, after, or in-between viewings? Durex Sensi-Crème Original* condoms effectively add to the perfect holiday.
12

.

Day 12: Put A Ring On It
Engagement plans or not, the Durex Pleasure Ring* can definitely have you saying "yes, yesss… yesssssssss!" with pleasure. This final 12 days of Sexmas present is designed to help him stay harder while making each experience very satisfying indeed.
Have A Pleasurable Holiday Season
After checking out the sexiest Christmas gifts of the season, we hope you find yourself experimenting with more than just mistletoe. To you and yours, have a very sexy holiday!
*Ensure this product is right for you. Always read and follow the label before use.