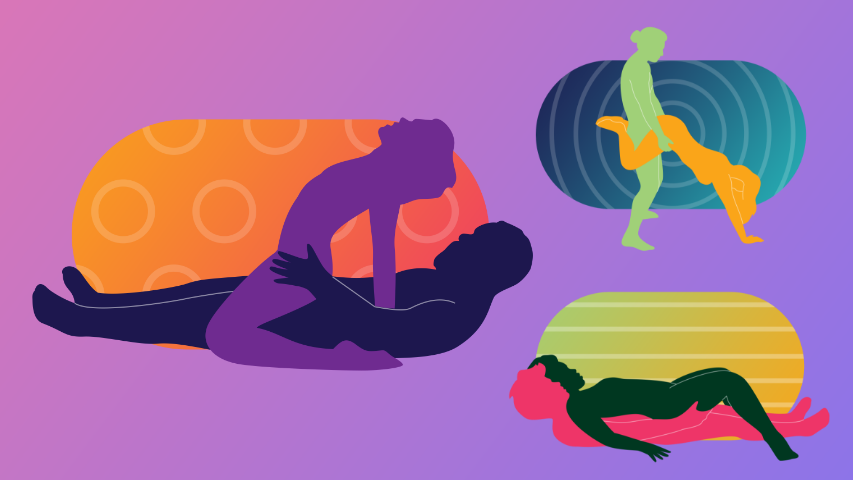 The Best Sex Positions To Try In The Bedroom
Feeling too sleepy in the bedroom lately? Finding the same old sex you've been having for months run its course? Open to more pleasure opportunities - some that have a better payoff? Then let your body do the talking with these upcoming sex positions to try to allow you the freedom to explore movement, passion, and that sweet release.
Whether you've been in a relationship and are lacking adventure with your partner(s), or just want to be educated on more smooth moves, these best sex positions can make you feel more prepared to serve it in the sheets. Name a better feeling than owning the title of Bed Boss? We'll wait.
1

.

Unbeatable Sex Positions To Try
The best sex positions that partners can explore are those that are mutually satisfying, super wet, and out-of-this-bedroom amazing. The following sex positions will not include the classic missionary sex position, as most people who have sex are likely familiar with how that goes. Instead, these best sex positions will transcend the average, go-to sex basics (with the exception of one) and hope to bring you more room for exploration. Even if you're not familiar with famous Kamasutra positions, let's break down some favourites and more. Divided into sections: hot sex positions, crazy sex positions, and new sex positions, we begin.
P.S. If there's a penis at play, you're going to want to find a condom that best fits* before getting into position.
Encountering a dry spell and want some advice apart from learning the best sex positions? Check out Turn Weeks Without Sex Into More Days Of Pleasure for a sexier future together.
2

.

Hot Sex Positions
Starting this best sex position list with some tried and true, turn-up-the-heat-worthy moves that are open and available to all kinds of relationships, we have:
The Classic Doggy:
The doggy style sex position ain't ruff, as it's actually quite simple 
No need to balance your body if balancing catches you off guard 
One partner gets on all fours while the other penetrates them from behind
Is your bark just as sexy as your bite?
Reverse Cowgirl or Cowboy:
Yeehaw! Be ready to enter the pleasure rodeo
One partner lays on their back in bed while the other partner firmly squats and sits on top with their back facing their partner
The partner doing the sitting then straddles from above
There's another opportunity in here for self-pleasure while the laying partner checks out the butt - it's a sex position to try that doesn't stop giving
3

.

New Sex Positions
Some of the best sex positions may be ones you've never heard of before, such as:
The Frog:
Leap into this fresh, but intense, rear-ended sex position to try in a very smooth way (we recommend using a Durex lubricant* for this one)
One partner sits on the edge of the bed with their feet planted firmly on the ground while the other partner squats over them
The sitting partner then holds their waist as the squatting partner slides up and down
Wheelbarrow:
If a quickie is what you're chasing, then this one's for you
One partner gets on all fours, like the doggy style sex position, while the other partner has their hands around the hips lifting them up into standing
Then, the partner not being penetrated can hold the ankles of the penetrated partner while they go to town (we recommend using the floor for this one as it's more sturdy)
For another version of the frog position, look to You Won't Believe How Pleasurable These Sex Positions Can Feel for a seriously hot alternative of this sex position to try.
4

.

Crazy Sex Positions
If you're a wild thing, learn these best sex positions for thrill-seekers and big drippers:
Half Headstand:

Channel your inner gymnast and get gymnasty with this trickier pleasurable position
One partner enters the other from behind while standing up, then the one in front folds forward with their head nearly touching the floor (use hands or arms for balance)
This should form a headstand position with the legs bent (the partner doing the penetrating can hold their partner's legs for extra support)
Double Decker:
Utilize all your sofa has to offer with this wild and crazy looking sex position
One partner leans back on the couch and props up their elbows while the other sits on top and faces away
Then, the sitting partner leans back onto their partner while being penetrated
Think of this as an XXX spooning moment that's not only bringing the comfort of cuddling to the table, but the creation of cumming together as well
5

.

Our Final Positioning
Ready to give these sex positions a try? After checking out these best sex positions, we don't blame you if you're feeling all kinds of excited - both in your mind and down there. Just remember to always get consent from your sexual partner(s) and use protection before anything goes down.
Want to make her even happier? See Seven Sex Positions For Her Orgasmic Pleasure.
*Ensure this product is right for you. Always read and follow the label before use.