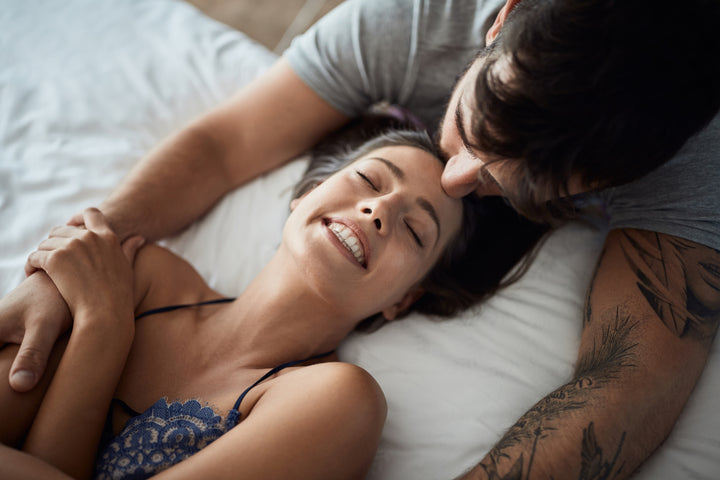 WHAT DOES SEX FEEL LIKE FOR MEN & WOMEN?
*The birds and the bees have entered the chat*
Everyone has their own idea about sex, their unique best practices and go-to methods on how to achieve their own pleasure principles. But what does sex feel like, whether it be solo masturbation, masturbating with your partner(s), or penetration? Sex feels awesome.
Ultimately, one reason why we enjoy sex so much is because, when we reach the height of sexual arousal, we experience an orgasm – a climax. And it's an unbeatable feeling. It's a tingling, intense sensation in our bodies followed by a release that happens when we're totally turned on.
However what sex feels like for a guy and what sex feels like for women can be a lot different, especially considering our arousals are contingent on our body parts.
How can we continue celebrating orgasms and make them satisfying experiences for all parties involved? Let's find out.
1

.

How To Have The Best Orgasms
Orgasms are the goal when it comes to having sex, as they truly connect someone with their heightened moments of body + mind pleasure. Nothing feels better than truly letting go. And orgasms are not just reserved for sex between two or more people, as you can achieve a sexy little orgasm through masturbation all on your own!
But, if you are wondering, "what does a male orgasm feel like compared to a female orgasm?" and "are the likelihood of male orgasms greater than that of women?", then you'll find your answers here.
In actuality, all people have the power to achieve phenomenal orgasms – but it's key to know how to please the different genitalia or pleasure zones sensationally.
We all have our own sexual response cycles, as touched on with more context in Eva Bloom's What's An Orgasm & How Do I Know If I've Had One? – a useful video as part of Durex Sex 101 that we definitely recommend watching!
Let's go over a few tips on how to enhance the big O for everyone, and check out some useful products that can help you have more pleasurable and consistent sex.
Speaking of consistency, if you're in the mood enough to go for round two – check out Twice Is Nice: Tips For Going Again to guide you into having a stellar second performance.
2

.

What Does Good Sex Feel Like For Women?
There's a myth still existing today that women can't experience orgasms like men can, but this isn't entirely true. Because orgasms are involuntary releases of tension from our bodies, they're capable of happening for everyone. It's pivotal that women are being pleased, or pleasing themselves, properly though.
How can a woman receive great pleasure leading to a fulfilling climax? There are a few ways to get there:
Focus on the clitoris, as opposed to the vagina – using hands, tongue, or vibrator on this region can elevate an orgasmic response
Imagine a deep, beautiful fantasy – the act of psychological stimulation can help enhance a physical moment (mindful kinkiness)
Passionate cuddling – pre-play cuddle sessions can make you feel more comfortable releasing an orgasm with your partner(s)
Exploring G-spot, nipple, or anal sensations – each of these 'points of pleasure' areas are quite capable of being stimulated desirably to achieve a fantastic female orgasm
Using these tips, and making sure to check in with yourself or your female partner(s), can help boost those much anticipated orgasms.

For visual examples of what sex feels like for a woman, look at Drawgasms: What Does A Female Orgasm Feel Like? for an artist's perspective on the range of emotions a woman can feel when climaxing.
3

.

What Does Good Sex Feel Like For A Guy?
A sweet release is the reward of an uplifting orgasm and, for dudes, there's a lot you can do to experiment with the pleasure takeoff. Parts of your body you never thought could be pleased can most definitely be pleased and leave you saying "thank you".
What does a male orgasm feel like? Here's some tips on how to take the orgasm on a trip:
Touch/stroke the taint – this area, also called the perineum, is the strip of skin found between the balls and the butt and is highly erogenous (asking your partner(s) to play with this area during penetrative or oral sex can take things to the next level)
Try incorporating a sex toy – a pocket pussy, butt plug, dildo, or cock ring (such as the Durex Pleasure Ring**) can help those with penises get off in soaring new ways
Give edging a go – edging is the practice of delaying an orgasm for a more intense climax and is a powerful tool to try during masturbation (when you're feeling like you're about to ejaculate, try slowing down, pausing, then starting up again)
Massage the prostate – this P-spot, typically viewed as the male equivalent to the G-spot, is located inside the anal gland and can be pleasured with a little probing (we recommend using lube when performing this orgasm eliciting tactic)
All of these orgasm tips can turn your "what does sex feel like?" question into a "how soon can I start?" game plan. A good place to start would also be to know how to ask your partner for what you need to orgasm.

Now, let's touch on a few Durex® products** that boost mutual pleasure.
4

.

Use Durex Products That Help Steer Orgasms
Durex offers mutually beneficial products that can help everyone get to that sweet spot orgasm. Let's point out a few:
Durex Mutual Climax condoms** – with Performax™ lubricant on the inside of each condom to help him slow down to last longer, the ribs and dots on the outside are designed to provide her stimulation and heighten her pleasure. Nothing feels better than coming together.
Durex Intense Orgasmic Gel** – it's in the name! This lubricant helps to increase sensitivity of her intimate areas for more intense pleasure. Special formula designed to bring sensual waves of warming, cooling and tingling sensations.
Durex Intense Bullet** – our quiet, discreet, and waterproof vibrator is a powerfully small sex toy that packs vibrations strong enough to please all areas of the body (we recommend using it against nipples, the clitoris, and the perineum – great during sex and for solo masturbation)
To explore the benefits of masturbating, open up What Is The Deal With Masturbation? to answer some questions you may have surrounding self-pleasure.

As you can see, and soon feel, everyone can achieve their best orgasm potential and experience unbeatable satisfaction. Though a female orgasm may look different than a male orgasm, as there are unique methods to get there, both climaxes can feel the same sense of 'OoOOooOOo'.

What does sex feel like? O-ut of this world.

--

For more on safe sex, check out How To Have Safe Sex to ensure a less stressful sexual experience.

Durex is the WORLD'S #1 CONDOM BRAND*

*Based on Global Nielsen Unit Share Data through November 2021; with over 80 years of experience, Durex offers affordable protection against pregnancy and STDs and is trusted by millions around the world every day. Please read and follow the label.

**Ensure this product is right for you. Always read and follow the label before use.