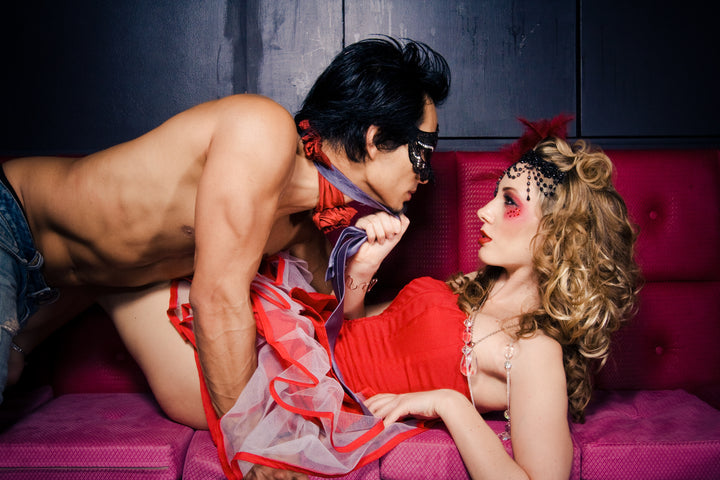 GET NAUGHTY WITH THESE SEXY HALLOWEEN COSTUMES
Tired of the same old witch, cat, cop, or ghost costume? Spice it up with this list of sexy Halloween costumes for couples that conveniently work for extra-curricular role-play activities. Explore your sexual desires through the art of dressing up!
1

.

Spooky & Sexy Couples Halloween Costumes

Are you looking for something more creative than Bonnie & Clyde?

Halloween is the ultimate excuse to flex your naughtiest costumes and, in this article, we'll break down 10 unique outfit concepts that can make you the hit at a spooky bash and get you lucky when you arrive back home. Make your partner scream in pleasure.

This selection ranges from sensual twists on costume classics to more imaginative forms of attire. All in all, each outfit can prompt some good old fashioned Halloween costume sex. Besides, any costume can spur more eroticism if you add the word 'sexy' in front of it. And what better reason to own your sexiness than on Halloween?

Nothing feels better than a sexy celebration.

But before we jump (scare) into the sexiest costume ideas for couples, let's explain one of the most interactive kinks out there: the art of role-playing.
2

.

What is Role-Playing?

Let's assume the first position, which may just be the greatest role of your life.

Role-playing is the act of characterization or behavioural impersonation of someone other than yourself. In relationships, role-playing is a stimulating tool to explore because it allows people to play out their sexual fantasies.

While this kink is healthy in relationships, it's important to consider a few tips before you let your innermost desires run free:
Give Consent & Build Boundaries - like any form of sexual activity, role-playing must be communicated with your partner(s) and mutually agreed upon (we suggest coming up with 'safe words' during playtime)
Stress Less & Have Fun - it's perfectly normal to feel a bit shy, nervous, or anxious during first-time role-playing sessions – we recommend deep breathing, switching up rooms, dimming the lights, and even playing some funky music to help get you into character
After these tips are noted, you can get down n' dirty in your sexy couples Halloween costumes.
For more on how this kink can help keep relationships exciting, read 5 Reasons To Introduce Role-Play Into Your Relationship for a stimulating piece of fantasy.
Now, ready to hear about some couples Halloween costumes that lend a hand to role-playing scenarios? Let's try them on!
3

.

Doctor/Nurse

Want some sex life support? This couples costume idea can make you beg for a checkup, and get you all kinds of physical.

Simply grab a stethoscope, a lab coat or scrub, a pair of latex gloves (that is, of course, if you don't have a latex allergy), and a surgical mask (those won't be hard to find these days) to complete the sexy look. Not only will you be donning a very acceptable and highly respectable Halloween costume, but you'll be ready for some horny house calls back at home with your partner(s).

BONUS: For a more subservient/dominant approach to these costumes, have one partner role-play the doctor or nurse while the other acts as a patient – suited up in a sexy hospital gown.
4

.

Tooth Fairy/Dentist

Craving an oral exam? Try dressing up as a tooth fairy or a dentist for Halloween – then let this kinky partnership take flight in the bedroom.

For the tooth fairy, you'll need a pair of wings, a wand (you can even use the Durex Intense Bullet vibrator* for more wet wishes granted), some flowy fabric, and a little bag made to look like a tooth collection bundle.

For the dentist, you'll want a scrub (try experimenting with different colours or patterns), some gloves, eyewear, and maybe a little rinsing cup for a post-procedure pleasure spit.

This perfect couple costume puts the 'O' in Orthodontistry.
5

.

Sexy Landlord/Sexy Tenant

Now for something more obscure, you can make your Halloween costume role-play hit a little closer to home.

Whisper sweet lease agreements into your partner's ear as a sexy landlord – decked out in a Lord's crown, royal cape, and ancient map of the unit in question. Or talk dirty about how high rent makes you feel and try to negotiate a lower cost as the sexy tenant – wearing regular clothes with a taped sign on your shirt that reads 'PROPERTY OF [INSERT LANDLORD NAME HERE]'.

With this sexy couples costume, you can occupy some much needed pleasure time and challenge other people's vacant imagination.
6

.

Sailor/Mermaid

Land Ho! Get wetter with these sexy Halloween costumes that are shore to be a crowd-pleaser and a splash in the bedroom.

When it comes to the sailor in the relationship, dress in a typical naughty nautical uniform (usually red, white, and khaki colours with a royal blue striped shirt or suit) equipped with a capper, a plush parrot, and a spyglass used to spot the mermaid with – who'll wear a flapping tail without a shirt or only a seashell bra.

To add extra wetness to this role-playing idea, try using some water-based Durex Play Tingling lube† – it's smooth, designed to cool and tingle all over your body, and compatible with natural rubber latex, polyisoprene & polyurethane condoms!
7

.

Sexy Acrobats

Looking to get more flexible with your options? Why not be a sexy acrobat who performs gravity-defying tricks in and outside of the bedroom! Put on a show for or with your partner(s) in this agile fit that can help you sexercise.

All you'll really need for this couples Halloween costume is a leotard (and maybe a little courage to perform some stunts like never seen before).

Speaking of stunts, explore new erotic arrangements in Don't Be Scared: 5 Halloween-Inspired Sex Positions to help you get wickedly creative while getting it on.
8

.

Lifeguards

Perfect for mouth-to-mouth. If you're in the mood for role-playing CPR while still showing up to the Halloween party in a beachy look, this one's for you!

As a couple, rock bathing suits, whistles, sunglasses, flip-flops, and some sunscreen at the shin-dig. Then, when you get back home, swap the sun block for a massage lube* and role-play a hot waterside encounter.

This costume cosplay will definitely save your life on Halloween night.
9

.

Sexy Astronaut/Sexy Alien

Searching for some out-of-this-world sex while still meeting couples Halloween costume requirements? Try out some spacey astronaut and alien getups.

For the sexy astronaut, buy a one-piece spacesuit and a helmet (moon boots optional) and be prepared to face your alluring alien encounter – who can wear all green or metallic silver with some wicked face paint. Who knows, maybe they'll even be into a little anal probing.

We guarantee you'll be coming in peace.
10

.

Rock, Paper, Scissors

Got more than one partner or looking to have a haunted three-way? This creative Halloween costume puts a sexy twist on an old school game.

Perfect for a few rounds of sexy fun, get all handsy with adult rock, paper, and scissors costume role-play. Let paper get on top of rock and cover them in winning pleasure, then have scissors penetrate (or scissor) paper, and allow rock some victory too: delightfully pounding scissors.

Prepare yourself more for multiple satisfaction with Durex Invisible Extra Lube condoms* – our thinnest condoms with extra lube for a smoother feeling.
11

.

Sexy Line Cook/Sexy Server

Ever fantasized about a certain server or line cook in a restaurant you loved to dine in? Well place your order on these sexy Halloween couple's outfits and dine in on pure pleasure.

To fulfil the line cook fantasy, wear an apron over a white tank top and cover your arms in tattoo sleeves while carrying around a spatula (up the profanity and the sweat). To meet server attire, don a white button-up shirt, black skirt or pants, and carry around a fake menu board (with your partner being the only thing on it under 'appetizer').

You'll be sure to ring in some after hours excitement after the shift's over.
12

.

Sexy Clowns

Honk (your big red nose) if you're horny!

Make the Joker and Harley Quinn jealous by cracking some sexy jokes that'll bring your partner(s) to their knees with this costume idea. Just shop for a classic clown suit and role-play a stimulating circus act. Nothing feels better than laughing together (after getting kinky) and this sexy Halloween costume is guaranteed to do just that.
13

.

Sexy Pop Star/Sexy #1 Biggest Fan

This one deserves an applause for sure. You and your partner(s) can role-play any pop star of choice (with mic in hand) or their sexiest #1 fan – desperately simping for attention and holding signs that express their love.

You can go modern or classic with the pop cultural references. You just have to make it look like a sexy Halloween costume. Whatever your sexy may be.

For something even sexier, dive into Why Sex Is Important In A Relationship for a deeper understanding of the positivity of intimacy.

-
14

.

The Final Fitting

There you have it – 10 freaky hot looks that'll win you points out in public and in private. Who knows, you might just spook yourself by how good you'll feel wearing one of these! To cap off this Halloween role-play session and sexy couples costume guide, we hope you have a scarily seductive celebration and continue to enjoy safe and pleasurable sex all year round.

*Ensure this product is right for you. Always read and follow the label before use.

†For anal sex, do not use Durex Play Tingling lube.